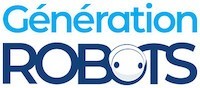 My Cart
0
item(s)
-
€0.00
There are no more items in your cart
Pioneer Manipulator platform with robotic arms
Take a Pioneer LX research mobile platform, equip it with a pair of Kinova robotic arms and a Kinect for Windows V2, and you get the Pioneer Manipulator. This creation by Adept and Pioneer proves just as useful for your IT research tasks as for your laboratory manipulations. DISCONTINUED PRODUCT
Pioneer Manipulator: industrial speed and scientific accuracy
This assembly is a successful combination of Pioneer and Adept MobileRobots products. The Pioneer Manipulator mobile platform is a 2 wheel drive robot designed for both indoor and outdoor applications, and offering endless possibilities in terms of programming and personalisation.
It's the ideal base for creating a research robot dedicated to movement and fine manipulation.
In conjunction with Kinova, a manufacturer specialised in assistive and professional service robotics (in the medical field, for instance), Adept has developed the Pioneer Manipulator, a robot capable of navigating intelligently within its environment and performing tasks autonomously and accurately.
In terms of performance, you can expect the best of the LX platform, with a battery designed for continuous duty that will last virtually all day long. With the 2 integrated computers, you'll have all the connections and power you need for your programming operations, using as usual the complete Pioneer SDK.
Can talk, see and grab things
The mobile Pioneer Manipulator with robotic arms is outfitted with many accessories that make it a truly autonomous robot: it can detect movements and obstacles, scan its environment, and handle objects accurately thanks to its 2 robotic arms aimed at research applications.
These manipulators and the Kinect for Windows V2 are mounted at the top of the "torso", and give the robot an anthropomorphic look.
Technical specifications of the Pioneer Manipulator robot by Adept
Integrated processor:

Intel D252 64-bit Dual Core 1.8 GHz Atom
Graphics processing unit
2 GB DDR3-1066 RAM
Available with Windows or Linux OS
802.11 a/b/g wireless connection
Gigabit Ethernet (2x)
16 in/16 out digital I/Os

Second embedded computer:

Intel i5 or i7 processor (4th-gen)
16-32 GB DDR3 RAM
Available with Windows or Linux OS
Gigabit Ethernet (2x)
USB 2.0, 3.0 and serial ports
Intel HD4600 graphics processing unit supporting OpenGL, OpenCL and DirectX

Weight: 80 kg
Maximum load: 35 kg
Power supply: 24 Vdc 60 Ah LiFeP04 battery
Autonomy: 6.5 hours (continuous use)
Charge time: 3.5 hours
Battery life: 7 years (16 hours/day, 5 days/week)
Charging station (automatic or manual)
Auxiliary power: 5/12 Vdc
6 USB 2.0 I/Os
2 USB 3.0 I/Os
2 serial I/Os
1 VGA I/O
Maximum speed: 1.8 m/s
Non-marking rubber tires
2 drive wheels, 4 casters
Swing radius: 32.3 cm
Turn radius: 0 cm
Traversable gap: 15 mm
Traversable sill: 15 mm
Manipulator:
Payload of up to 2.5 kg
Reach in full extension: 90 cm
Harmonic drive
Gear ratio:

Large actuators 1 and 3 – 1:136
Large actuator 2 – 1:160
Small actuators 4, 5 and 6 – 1:110

Max. linear arm speed: 20 cm/s
The platform includes:

1 Pioneer LX mobile base
1 Kinect for Windows V2 mounted on a pan/tilt stage
2 Kinova Jaco2 Research Manipulators
1 Torso with two different options for manipulator mounting points
Resources for the Pioneer Manipulator platform with robotic arms
You'll find below all the information you need to know about your Pioneer Manipulator.
Customers who viewed this item also viewed