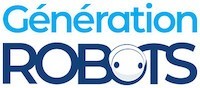 My Cart
0
item(s)
-
€0.00
There are no more items in your cart
Powerbot mobile robot
Are you looking for a robotics platform combining intelligence and physical power, able to carry heavy loads of equipment from one place to another and place it carefully on a workbench? PowerBot is a as robust as it is reliable, and an eager learner. DISCONTINUED PRODUCT
PowerBot: the heavyweight of the Adept line of mobile robots
A massive creature is about to enter your research lab, but do not worry: PowerBot is peaceful and helpful, and you will be amazed by its power and its robustness. This 120 kg mobile robot by Adept can safely move a payload of up to 75 kg thanks to its chromed steel chassis and its anodised aluminium plate.
This fast giant moves at speeds up to 2.1 m/s with surprising agility. Like many robots designed by Adept, it comes with differential-drive wheels and casters, and can rotate quickly, make sharp turns and avoid the obstacles detected by its ultrasonic sensors.
But be careful: big robots like PowerBot can also be fragile. Absolutely avoid outdoor uses, especially when it rains.
Learn more about the Powerbot in this video presentation
A versatile robotics platform thanks to the Pioneer SDK
A worthy representative of Adept's line of research robots, PowerBot includes the Pioneer software development kit and has the ability to perform tasks such as robot mapping, monitoring and robotised recognition, manipulation, robotic teleoperation... In short, it can do everything you would expect from a search mobile robot which would rather be judged by its intelligence than by its strength.
With the adequate accessories, PowerBot can be transformed into a platform with a robotic arm, an exploration and surveillance camera, an on-board computer or a voice recognition kit. As you'll have gathered, this is serious stuff!
Technical specifications of the PowerBot platform
2.3 mm lacquered aluminium body
4.75 mm anodised aluminium top plate
Chromed steel box tube frame
IP 20
Pneumatic drive wheels and solid rubber casters
Weight: 120 kg
Maximum payload: 75 kg
Differential drive
Turn radius: 0 cm
Swing radius: 54 cm
Max. forward/backward speed: 2.1 m/s
Rotation speed: 300°/s
Max. traversable step: 3 cm
Max. traversable gap: 8 cm
Max. traversable grade: 15%
Traversable terrain: wheelchair accessible
Autonomy: 4.5 hours (with laser and computer)
Charge time: 2.5 hours
Power supply: 2 x 5V @1A, 2 x 12V @1A, 2 x 24V @ 1A
24V 90 Ah sealed lead acid batteries
Available recharge options:
Direct plug-in
Docking station
Top panel:

Power indicator
Battery charge indicator
2 AUX power switches
Reset button
Motor enable push-button
Joystick plug-in
2 emergency stop buttons

Corvalent 965ATX - Intel® Core™ 2 Duo E4300 processor

Intel® Graphics Media Accelerator 3000
Memory: 8 GB DDR2
6 serial ATA2 connectors
4 USB 2.0 ports
4 RS-232C serial ports
2 Gigabit Ethernet ports
5 full size PCI slots
2 PCI Express ports
Intel® HD Audio, 3-Jack Audio, Surround sound & SPDIF header
32 digital inputs
8 digital outputs
7 analogue inputs
3 serial expansion ports

The PowerBot includes front and rear sonar, tethered joystick, battery, and 110/220V charger
Resources for the PowerBot platform
To obtain detailed informations on the PowerBot, follow these links.
Customers who viewed this item also viewed