MySignals SW BLE (SoftWare) Complete Kit - E Health
| A-000000-02425
With the MySignals development platform, you'll be able to try your hand at creating medical and e-health applications for the web or your smartphone (Android or iOS). The MySignals prototyping kits are the most comprehensive on the market, with a staggering 5 sensors.
Including €0.92 for ecotax
Presentation of the MySignals SW BLE (SoftWare) Complete Kit
The MySignals SW BLE Complete Kit boasts 5 different biometric sensors, allowing you to measure and collect various biometric signals for use in your applications. Users can access these biometric data from their Libelium account. They are encrypted and sent to the account via Wi-Fi or Bluetooth.
As a developer, you have access to two different types of API to retrieve the information transmitted by your MySignals biometric sensors: the Android/iOS API, which collects the information directly via Bluetooth; or the Cloud API, which you can use to view the data via a third-party platform.
There are two MySignals e-health application development platforms:
The Version SW (Software development platform)
The Version HW (Hardware development platform)
The MySignals SW board is designed for application developers who don't want to lose time tackling hardware-related constraints and want to focus solely on creating e-health applications. The SW development platform is therefore a ready-to-use solution, as easy as an MP3 player to work with.
The MySignals HW board was developed for more advanced electronics users wanting to fully control their development platform hardware. The board connects to an Arduino UNO like a shield and uses the Arduino SDK. This version allows you to connect additional sensors to the MySignals platform.

The MySignals SW BLE Complete Kit includes different sensors
The MySignals SW BLE Complete Kit has 5 sensors:
MySignals SW e-health development platform
Body position sensor PRO for MySignals

Body temperature sensor PRO for MySignals

SPO2 pulse oxygen in blood sensor PRO for MySignals

Blood pressure BLE sensor PRO for MySignals
Glucometer BLE sensor PRO for MySignals
You can also connect your own biometric sensors to create additional medical applications.

Technical specifications of the MySignals SW BLE Complete Kit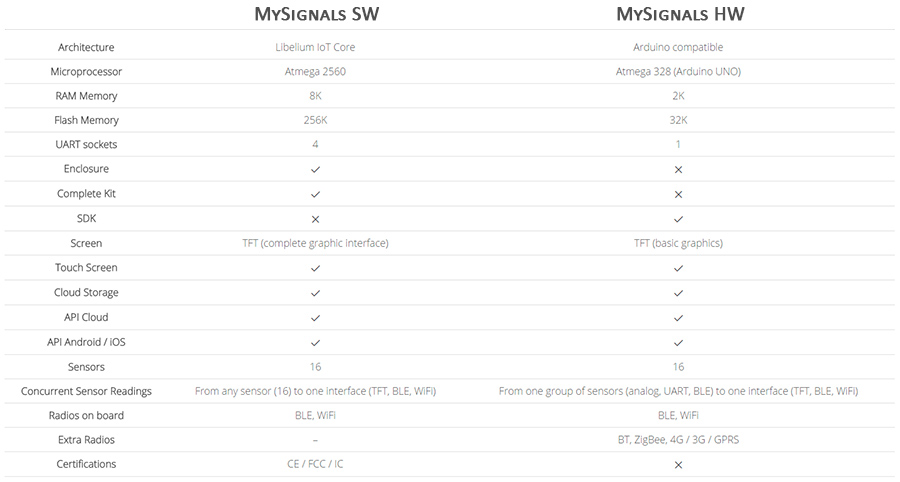 Resources for the MySignals SW BLE Complete Kit
Data sheet
Code douanier

85176100

Origine

ES
Customers who viewed this item also viewed