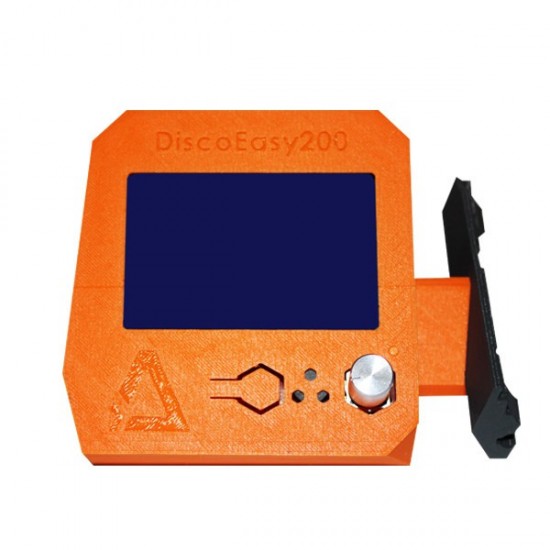 DiscoEasy200 Monitor
The DiscoEasy200 Monitor is the ideal accessory for the 3D printer of the same name; you'll quickly find you it indispensable for carrying out all your checks before and during 3D printing.
Including €0.02 for ecotax
DiscoEasy200 Monitor: keep an eye on your 3D printing
Designed for controlling your creations as they're printed with the 3D DiscoEasy200 printer (DiscoEasy200 as a kit or already assembled DiscoEasy200), this Dagoma monitor offers all kinds of advantages:
Adjust your settings simply and easily before printing: change the nozzle height and other parameters (temperature, speed, etc.), choose a project among the files stored on your SD card, and more
Refine your printing while your 3D printer is at work: change settings, control the movement of its axes, etc.
Make multi-coloured creations by suspending printing while you change the colour of the filament
Like for the DiscoEasy200 printers, Dagoma has reduced the cost of its monitor to a minimum while adopting an eco-responsible approach.
This video will show you how to navigate through the different screen menus
DiscoEasy200 Monitor: easy to set up and adjust
All you'll need is a screwdriver, to assemble the different parts of the screen according to the instructions available free of charge from the Dagoma site. This process will also help you better understand how the screen works, and you can even use it to teach others as part of an educational workshop. The DiscoEasy200 Monitor by Dagoma was not originally designed for Discovery 3D printers, but you can upgrade your old model with an Evolution Kit.
Technical specifications of the Dagoma monitor
Your pack contains:
The printed parts
1 set of hardware
1 display for an electronics board
1 control button
2 connection ribbon cables
1 adapter
You'll also need a 2.5 mm hex screwdriver to assemble the various parts
Resources for the Dagoma 3D-printing monitor
We've another little surprise for you to ensure you make optimum use of your Dagoma monitor. You'll find it below!
Customers who viewed this item also viewed