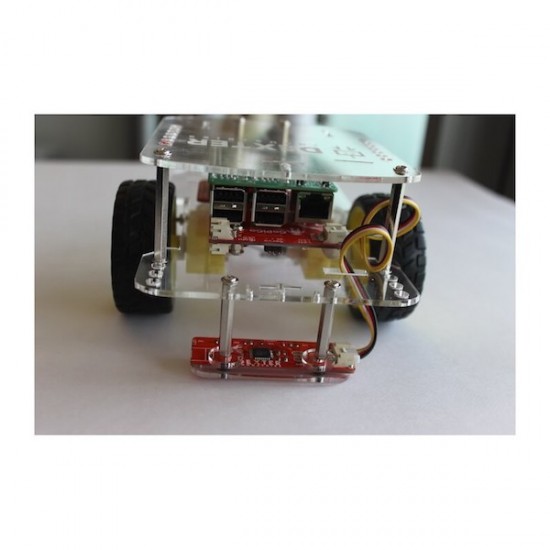 Line Follower for GoPiGo 3
Do you want to teach your GoPiGo robot how to follow a line-marked path, or would you like to organise races across your classroom or your garage? Grab some black and white adhesive tape, and the line follower for GoPiGo!
Including €0.01 for ecotax
Line Follower for GoPiGo: black and white are your robot's favourite colours!
The line follower for GoPiGo can be assembled in a few minutes. Attach the spacers and the acrylic protector, and tighten the bolts, then mount the set onto your mobile robot. Connect the GoPiGo line-following module to the robocontroller using the included Grove electronic cable.
Refer to the instructions to program your favourite mobile robot to follow a line in Scratch or Python: it can now move along white lines on a black background or black lines on a white background!
A GoPiGo1/2-compatible robot
The line-following sensor module for GoPiGo works out of the box with GoPiGo2.
Technical specifications of the line follower for mobile robot
The kit includes:
1 line-following sensor module
2 hex spacers
1 sensor cable
2 round spacers
1 acrylic protector
2 long bolts
2 short bolts
Resources for the sensor for GoPiGo robot
Check out below the full documentation for assembling and programming your line follower for GoPiGo:
Customers who viewed this item also viewed