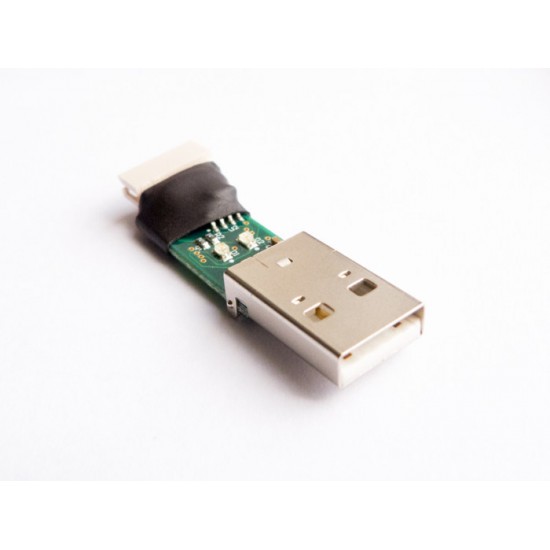 USB to RS-485 3 Mbps (Dynamixel compatible)
Are you looking for a fast, simple way to connect your Dynamixel servos with an RS485 interface to a USB port? The USB to RS-485 Dynamixel converter supports a data transfer rate up to 3 Mbaud!
Including €0.01 for ecotax
Dynamixel UART USB-RS-485 connector: the best way to connect your servo!
The latest generation of Dynamixel servo motors fall into two main categories: servos with a TTL interface and servos with an RS-485 connection. The latter need a specific adapter so they can be connected to a USB port, notably for programming and updating operations. This accessory incorporates an FT232RQ electronic chip designed to handle all the data sent over USB and transmit them via UART. Each adapter is fitted with a USB-A connector on one side and a 4 pin MOLEX connector, which is compatible with all your Dynamixel-R servos, as well as other devices with an RS-485 interface!
An open-source device
The USB to RS-485 Dynamixel adapter requires USB drivers, available for free (see the Resources section below).
Technical specifications of the USB/RS-485 adapter
USB speed: USB 2.0 Full Speed
Max. UART speed: 3 Mbps
Driver compatibility:
Windows 98, 98SE, ME, 2000, Server 2003, Server 2008
Windows XP, Vista, 8 and 10 (32 and 64 bit)
Windows XP embedded
Windows CE 4.2, 5.0 and 6.0
Mac OS 8/9, OS-X
Linux 2.4 and greater
Compatible with the following servos: MX-28R, MX-28AR, MX-64R, MX-64AR, MX-106R, PRO series
Dimensions: 147 × 15 × 6 mm
Weight: 6 g
Resources for the Dynamixel USB/RS-485 adapter
Do not download your drivers blindly: we've provided the right link just for you!
Customers who viewed this item also viewed