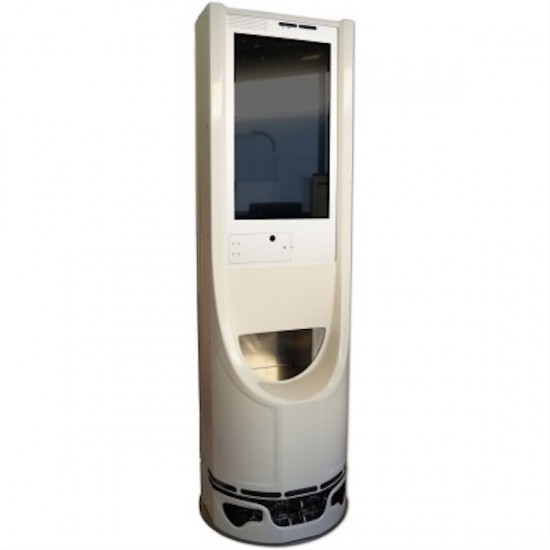 Keylo Robot
Calling all industrials, researchers, doctors, entrepreneurs, and so on: meet Keylo, a service robot designed to advise and assist clients, patients and visitors, but also an exciting robotics platform that engineers and researchers will be delighted to develop and customise. Contact us for more info.
A guidance, telepresence and surveillance robot
Keylo is the WYCA (Welcome Your Clients Anywhere) robot of choice for professionals who wish to start their own digital revolution. The Keylo robot can greet visitors, clients and patients with details about your organisation and show them informational videos. It can assist your security officers or collect payments in the aisles of your store... And so much more!
Keylo collects consent via a digital signature after the patients have viewed a video explaining the procedure they are about to undergo. It can also connect them to a nurse using the 2-way video feature, so that they get any additional information they might need.
Keylo can keep watch on your facilities and assess security issues when an alarm is triggered, then record the incident on video to inform your security service.
Keylo can walk the aisles of a trade fair while displaying promotional videos on its 24" touchscreen, and adapt your special offers to the clients' geolocation.
Keylo helps visitors and clients find their way using the Follow Me feature, able to define the most effective path.
With Keylo, you can maintain a high quality of service with reduced staff cost, and streamline the workflows to improve your teams' efficiency, availability and speed. It also lightens the workload in organisations plagued with overwork, like hospitals. In short, Keylo is a surveillance and service robot in tune with the new digital issues, yet enabling you to maintain a human dimension in your relations with the public.
A robot that's also fit for research
Keylo will also prove indispensable for engineers and robotics enthusiasts. Programmable on Ubuntu 16.04 LTS, it's mostly made of plug-and-play and above all open source components. You can access the robot's electronic components very easily, and replace and/or customise almost all of them. The goal of the research version of Keylo is to allow developers to have full control of the platform, which is highly manoeuvrable, can cross door thresholds and can enter an elevator.
The Keylo robot has an autonomy of 2 to 6 hours with the basic battery pack, and comes with a docking station.
Technical specifications of the Keylo robot
Ubuntu 16.04 LTS, ROS Kinetic Kame and standard ROS API
Diameter at base: 52 cm
Total height: 164 cm
24" touchscreen
Autonomous navigation
2-way video
Resources for the WYCA Keylo robot
Customers who viewed this item also viewed