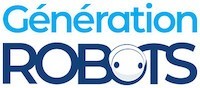 My Cart
0
item(s)
-
€0.00
There are no more items in your cart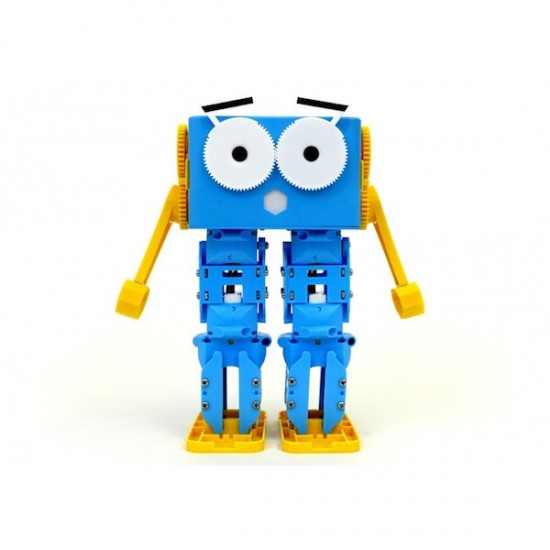 Marty Humanoid Educational Robot
We are proud to present Marty, a cute little humanoid robot with a friendly face designed to teach the basics of programming while having fun, or simply bring some cheer to anyone working in an austere research lab!
DISCONTINUED PRODUCT
An educational robot, from primary to university
Marty is above all an educational robot accessible to pupils from primary school upwards, but which also sparks interest among researchers and university professors. You can program the robot using ScratchX, Python or C++. And it is ROS-compatible for those who prefer an open-source environment. Children can rapidly grasp a whole range of electronics, IT, robotics and mechanics related concepts using the ScratchX visual programming language.
More advanced robotics engineers can use a Raspberry Pi to control and program Marty. By combining the Python language and the ROS environment, you will gain access to the entire Rospy universe and to the advanced V-REP simulator. Even without the ROS, Marty has its own complete world that is yours for the taking.
The very charming Marty will also dance for you!
Although not very talkative, the Marty robot is a great dancer! His knees are equipped with shafts and servos offering a wide range of motion, including at the sides. This is what gives him his swaying walk, which younger robotics enthusiasts will love. He can learn all kinds of fun dances, dictated by your imagination, play football, and much more.
Marty is also an expressive robot – when his two round eyes begin to move they set his two eyebrows in motion, in either an inquiring look or joy. Which of course makes it even easier for children to identify with their new friend. He can also connect to the WiFi (initially for calibration) and is a very scalable robot for secondary schools because you can customise him with 3D-printed parts.
Please note that in order to use the Marty robot, you will need to be connected to the internet via WiFi. Make sure it is possible in your school (alternatively, you can use your smartphone as a WiFi hotspot).
Technical specifications of the Marty Humanoid Robot
List of Marty robot parts:
8 servo holders
4 servo mounts
2 twist shafts
12 leg links
4 servo leg links
8 cross braces
2 feet
1 head base
1 head face
2 side panels
1 left eye
1 right eye
2 arm gears
2 arms
2 hands
2 arm servo gears
1 eye cup washer
2 foot springs
1 power cable
1 on/off cable
1 Li-ion battery
2 leg twist servos
4 hip/knee servos
3 arm/eye servos
3 arm/eye servo horns
51 bolts, 2.5 x 9 mm
10 bolts, 2 x 10 mm
3 servo horn screws
51 nuts, 2.5 mm
10 nuts, 2 mm
1 Rick microcontroller
1 charging cable
2 bump switches
1 screwdriver
Processor specifications:
ARM Cortex M4 Core 32 bit
Max. clock speed: 180 MHz
Flash memory: 512 KB
SRAM: 128 KB
CAN resolution: 12 bits
50 I/O pins
Working supply voltage: 3.3V
Operating voltage range: 1.7 to 3.6V
Operating temperature: -40 to +85 °C
Interface: CAN, I2C, SAI, SDIO, SPI, UART, USART
Analogue supply voltage: 3.3V
CAN resolution: 12 bits
I/O voltage: 3.3V
Number of CAN channels: 16
Number of clocks/counters: 14
Resources for the Marty Educational Robot
Guides, tutorials, downloads, videos – you'll find everything here, and everything's free, because it's Marty!
Data sheet
Programming language

Python

Programming language

C++

Programming language

JavaScript

Programming language

Scratch

Age group

9-11 years

Age group

15-17 years

Age group

12-14 Jahre

Compatibility

Computer

Power supply

Battery (rechargeable)

Robot type

Humanoid robot

Robot type

Building set
Customers who viewed this item also viewed