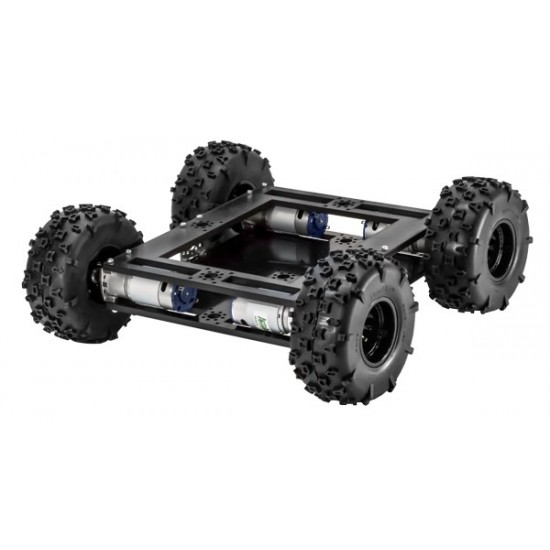 Prowler Robot Kit
The Prowler Robot Kit is a robust robotics chassis that's easy to assemble and use. Particularly suitable for beginners, it is the ideal choice for creating a customisable outdoor robotics platform.
Including €0.38 for ecotax
Prowler Robot Kit by Actobotics: the chassis that makes life simple
The Prowler Robot Kit was designed for amateur robotics engineers who don't want to spend hours assembling and connecting parts before having fun with their outdoor robot chassis. It consists of 4 planetary gear brush motors with high-traction off-road wheels, 2 ABS plastic platforms and a complete set of mounts for quickly and easily attaching the various chassis components.
The distance between the 2 platforms, created by the wheel hub mounts, allows you to insert the 4 motors without wasting any space.
A customisable 4-wheel robot chassis
Once you've assembled the basic elements, you can insert not only additional Actobotics components but also a motor or motion controller, to refine your robot's movements. Although very strong, its plastic platforms can also be drilled to mount a camera, sensors or other components.
Technical specifications of the Prowler robotics chassis
Motor specifications:

Operating voltage range: 6–12 Vdc
Rated voltage: 12 Vdc
Rated load: 4.5 kg.cm
Operating temperature: -10 °C to +60 °C
Max. no-load current: 0.52A
No-load speed: 313 rpm
Minimum stall torque: 30 kg.cm
Max. stall current: 20A @ 12 Vdc
Dielectric strength: 250 Vac
Graphite motor brush
Output power at maximum efficiency: 13W
Gear type: planetary
Gear ratio: 27:1
Dual ball bearing
Shaft size: 6 mm
Weight: 330 g

Total weight: 2.49 kg
Tyre size: 137 mm
The kit includes:
4 x 313 rpm planetary gear motors
4 black Revolver wheels
4 Leopard off-road robot tyres
4 x 12 mm type D hex wheel adapters, 6 mm bore
4 aluminium type E motor mounts
4 x 90° quad hub mounts
1 x 11 mm long 6-32 socket head cap screw
2 ABS plastic plates, 228 x 266 mm
Assembly requires a 7/64 hex key (not supplied)
Customers who viewed this item also viewed