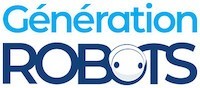 My Cart
0
item(s)
-
€0.00
There are no more items in your cart

CAN-BUS Module (based on MCP2551 and MCP2515)
Seeed Studio |
A-000000-03089
This Serial CAN-BUS from Seeed Studio provides your Arduino or others MCUs with the capability to communicate with this data bus via the Base Shield's Grove system.
A CAN-BUS module for reliable long-distance communication
The CAN (Control Area Network) communication protocol enables you to network various embarked devices using your microcontroller, at relatively high speed. Data transfers remain reliable and secure even over long cables. That's why the CAN-BUS is commonly used in robotics to connect various circuits and electronic boards.
Easy to use in all your electronics and robotics projects
Connect your robot via CAN-BUS to any sensors or actuators you can think of and turn it into the most autonomous and agile creation. This Serial CAN-BUS from Seeed Studio connects to your Arduino board (or Raspberry Pi, Beaglebone, etc.) by plugging the Base Shield (or GrovePi+, Grove Cape, etc.) to your microcontroller. Arduino users also get easy access to a complete code library.
Technical specifications of the Seeed Studio CAN-BUS module
UART to CAN-BUS communication
AT command
Transmission rate (UART): up to 115,200 bauds (default 9,600)
Transmission rate (CAN-BUS): up to 1 Mb/s
Operating voltage: 3.3V
Easy-to-use Arduino library
1 x 4-pin 2 mm Grove connector
2 LED indicators (power and status)
2 LED indicators (send and receive)
1 x 3.5 mm terminal for CAN-BUS connection (CAN_H and CAN_L)
1 x 120 Ω register, default connected (if you don't need it, you can cut it off with a box cutter)
Dimensions: 20 x 40 x 10 mm
Weight: 9.5 g
Includes:
1 CAN-BUS module
1 x 4-pin Grove cable
1 small screw
Customers who viewed this item also viewed