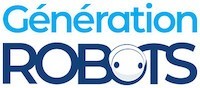 My Cart
0
item(s)
-
€0.00
There are no more items in your cart
RoboCupJunior Rescue League Electronic and Motorisation Pack
Want to take part in the RoboCupJunior Rescue League? Not sure which equipment you'll need? Génération Robots has compiled a list of suitable components just for you!
Including €0.38 for ecotax
Why choose this RoboCupJunior Rescue League Pack?
RoboCupJunior
offers multiple challenges, including two Rescue events, Rescue Line and Rescue Maze. Each test presents its own difficulties, but they both involve autonomous movement of a mobile robot within an undetermined space. Choosing the right components can be difficult given the multitude of motorisation, electronic platform and sensor possibilities. Génération Robots has saved you time by compiling a selection tailored specifically to the requirements of these sub-leagues. Leaving you to concentrate on the mechanical aspects and programming!
The RoboCupJunior Rescue League electronic and motorisation pack includes the following
1 x Arduino-compatible Mega Board
1 x heat sink
1 x Grove I2C hub
2 x pairs of Pololu 70 mm wheels
2 x 7.4V batteries
1 x battery charger
1 x pair of "Dean" male-female T-connectors
4 x SPDT switches
1 x I2C multiplexer
1 x set of cables and heat-shrinkable sheath


Power supply assembly diagram

What the RoboCupJunior Rescue League Pack does not contain

To avoid restricting teams to a single solution, we have deliberately chosen not to include a chassis and mechanical parts. You will have to design them yourself. Including the device needed to fix the wheels to the motor shaft – which is something you can get started on right away! We suggest that you browse the selection of robotics chassis on our website. You can also use 3D printing and laser cutting to design a chassis of your own and various structural components. The Rescue Maze sub-league requires robots to recognise characters placed on the walls of the maze. This pack does not yet include a vision device capable of serving this purpose.

Learn more about RoboCupJunior
Customers who viewed this item also viewed