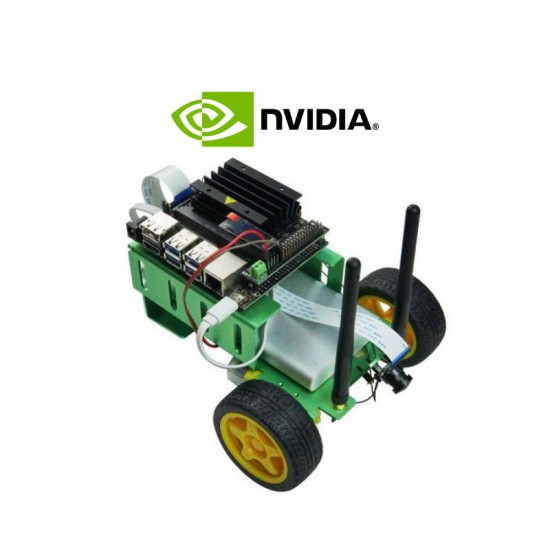 JetBot Smart Car Kit (NVIDIA Jetson Nano board not included)
The JetBot Smart Car is an AI robotics kit driven by the NVIDIA Jetson Nano board. It comes with all the hardware you'll need to assemble your intelligent vehicle, as well as various devices that you can program in Python.
Including €0.10 for ecotax
Robot kit for NVIDIA Nano: a vehicle for building AI applications
The JetBot kit allows you to rapidly assemble a mobile and autonomous vehicule that you can program using the NVIDIA Jetson Nano board. It comes with all the necessary screws and cables for assembling and connecting the robot.
This kit is designed to help users learn more about the possibilities offered by artificial intelligence. You will discover how to follow a line or object, avoid obstacles and identify nearby items. The NVIDIA programming board also allows you to build new AI applications in Python. Interactive tutorials will help you as you progress and the kit comes with its own software development kit. The pack also includes support for many open-source learning tools, including PyTorch and TensorFlow.
Develop your robot's vision and communication
This AI robotics kit comes with various devices designed to help you get your first artificial intelligence applications up and running. There's an 8 megapixel camera, for improving your knowledge of vision-based robot control, and a WiFi modem to create a wireless connection for your JetBot. You also benefit from a PiOLED display and pinboard.
Technical specifications of the AI JetBot robotics kit
NVIDIA Jetson Nano board not included
The JetBot Smart Car kit contains:

1 chassis
1 IMX219 8MP camera
1 Intel Dual Band Wireless-Ac 8265 W/Bt
2 dual frequency antennas
2 TT motors
2 wheels
1 universal wheel
1 motor driver board PCA9685+TB6612
1 PiOLED display 128x32
1 pinboard for OLED
1 64G TF card
1 set of mounting accessories
1 micro USB/USB power cable
3 motor cables
1 Jetson Nano to driver board connection cable

Battery not included (2.5A, micro-USB connector)



Resources for the JetBot Smart Car Kit
Learn more and download the software you'll need to get started on your AI JetBot Smart Car project thanks to the links provided below:
Customers who viewed this item also viewed