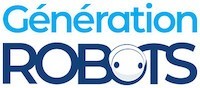 My Cart
0
item(s)
-
€0.00
There are no more items in your cart
BeeBot/BlueBot - French City Mat
A mat depicting the streets of a French city and its shops, to send the educational robot BeeBot or BlueBot shopping!
BeeBot/BlueBot robot play mat: a new route to follow
The BeeBot and BlueBot robots help kindergarten and primary school children acquire the basics of the directional language and the logic behind robotic programming operations. The child visualizes the path to be made by the mobile robot, then the "program" by pressing the directional arrows located on the back of the robot.
This French city Mat allows you to introduce new challenges in your workshops with BeeBot/BlueBot, for example by proposing a running list to the children. The little robot will have to go from shop to shop to fetch meat, bread or withdraw money.
Technical specifications of the BlueBot/Beebot mat
Size: 120 x 75 cm
Number of boxes: 40 per liter
The two steps below explain how to test your robot for power problems. 1) Reinitialize the robot: Open the battery compartment by loosening the screw. The screw is triangular and is located on the square plate at the bottom of the robot. Remove the battery and reinsert it to reinitialize your Bee-Bot / Blue-Bot. If that does not help, continue with point 2. 2) Test with a different battery: Insert a working battery to see if the problem is related to the battery or the robot

---
Customers who viewed this item also viewed