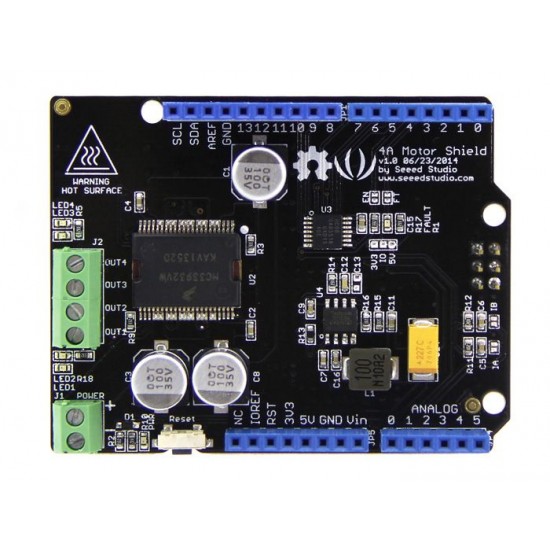 4A Motor Shield for Arduino
This motor shield can be easily installed on your Arduino and simplifies the motorization of your robot.
Including €0.01 for ecotax
Motor Shield: independent control of each motor
The 4A Motor Shield for Arduino and Seeeduino is based on the MC33932 dual H-Bridge Power IC. It lets you controlling the speed and direction of two motors independently, but you can also measure the motor current absorption of each motor.
It has an on board DC/DC converter that supports a very wide range of input voltages, from 6 to 28 V. This converter provides an output voltage of 5 V to power your Arduino microcontroller.
Technical specifications of the 4A Motor Shield
Dimensions: 115mm x75mm x25mm
Weight: G.W 53g
Battery: Exclude
Operating Voltage: 6V ~ 28V
DC/DC output: 5V 100mA @"5V"pin
Output Current(For Each Channel ): 2A (continuous operation) / 5A(peak)
Output Duty Range: 0%~100%
Customers who viewed this item also viewed