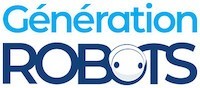 My Cart
0
item(s)
-
€0.00
There are no more items in your cart
The BBC micro:bit foundation was created with the vision of inspiring every child to create their best digital future. Micro:bit elements are studied in order to make them the easiest and most effective in the development of digital skills and creativity.
How to program the micro:bit board?
The micro:bit board can be programmed using Microsoft's MakeCode editor (with colour-coded coding bricks, like Scratch).
What's more, it's possible to see what your code looks like in Javascript language!
More advanced programmers can use the Python editor. In addition to these editors, Vittascience offers a double Blockly/Python editor.
How to transfer a program to micro:bit from a computer?
Transferring a program to your micro:bit is quite straightforward:
Create your program on MakeBlock or the Python editor
Save it on your computer (the program is a .hex file)
Connect your micro:bit to your computer with a micro USB cable
Your micro:bit board is displayed as a USB memory stick called MICROBIT
Drag and drop the .hex program from the folder where you saved it, to the MICROBIT drive
The LED on the back of the micro:bit flashes during the transfer
Once the .hex file is transferred, the board disconnects and reconnects. After this operation, the .hex file is no longer visible on the card, this is normal
Once transferred, the code will run automatically on your micro:bit
How to pair the micro:bit with a smartphone or a tablet?
Easy, just follow these steps:
Download the free micro:bit app (iOS or Android)
Activate your device's Bluetooth
In the app, select the "Connect" button
Hit the "Pair a new micro:bit" button
Press the A, B and Reset buttons at the same time for 3 sec. Release the Reset button first, then A and B
A pattern appears on the LED matrix of the board
Draw this pattern on your app
Press the Reset button
Your micro:bit is paired with your device
How to upload a program to micro:bit from a smartphone or tablet?
To upload a program from the micro:bit app, follow these steps:
Tap on "Flash"
Choose your program from the list
Hit "Flash" again
The program will be uploaded to your micro:bit board
More information about using micro:bit with a tablet or smartphone in our article "Program your micro:bit from a smartphone"