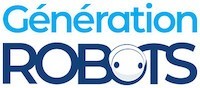 My Cart
0
item(s)
-
€0.00
There are no more items in your cart
Latest arrivals - robots for university and research
InterbotiX has now released its very latest version of the mobile and customisable PhantomX robot. This MK-IV model comes pre-assembled and offers new performance features, boosted by the latest Dynamixel servos.
Out-of-Stock
While it's true that there are already lots of ways to charge your Spot mobile robot, this charging station could well revolutionise the way you use your Boston Dynamics platform – and push the boundaries of your research and development work!
The Shadow Runner RR100 mobile robot is a ROS-compatible outdoor mobile platform dedicated to research and higher education. Designed and manufactured in Bordeaux by our Génération Robots engineers, the Shadow Runner is an off-road and weather-resistant robot. Its great strength? It's equipped with high-performance sensors in addition to being ROS compatible.
The RR100 is the education and research version of the GR100, a professional model with embedded localisation and navigation software designed by our own engineers.