As you're more than aware by now, Generation Robots is a huge fan of the Lego Mindstorms EV3 kits. We were already won over by its previous version, the Lego Mindstorms NXT, but this latest version is just packed with bricks , sensors and motors all waiting to be transformed into robots !
From now on, we'll providing you more regularly with useful information to help you purchase the right items, and we've put together this comparison of the Lego Mindstorms Education EV3 kit and the EV3 Retail Edition for just this purpose.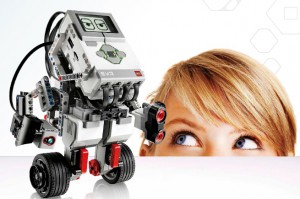 Motors, sensors, battery: anything in common?
If there's one thing all these kits has in common, it's the presence of an EV3 intelligent brick.
The Retail Edition includes 2 large servo motors and 1 medium servo. In addition to these, you'll also find three sensors :
1 [touch sensor)(../en/401501-touch-sensor-for-lego-mindstorms-ev3-robots.html "Touch sensor for Lego Mindstorms EV3 robots") (which can be used as a button or to detect obstacles)
1 improved colour sensor (allowing you to distinguish between 6 colours as well as the absence of colour)
1 infrared distance sensor (allowing you to measure distances and communicate with the infrared beacon)
The kit also contains an i nfrared beacon.
The Education version has the same number of servos , i.e. 2 large servos and 1 medium servo, as well as:
2 [touch sensors)(../en/401501-touch-sensor-for-lego-mindstorms-ev3-robots.html "Touch sensor for Lego Mindstorms EV3 robots")
1 improved colour sensor
1 ultrasonic sensor (allowing your Lego Mindstorms EV3 robots to calculate the distance to the objects in front of them)
1 gyro sensor (allowing your robots to know their angular position and speed of rotation)
1 rechargeable battery (the battery charger is sold separately)
You'd be forgiven for thinking the ultrasonic sensor contained in the Education kit is similar to the infrared sensor , but the ultrasonic sensor is much more accurate for detecting distances, which might prove useful depending on the kind of robot you want to build.
If you have the Education kit and want to create some of the robots found in the Retail Edition, you'll need to get your hands on an infrared distance sensor as well as the infrared beacon .
You will be able to build 5 robots with the Lego Mindstorms EV3 Education set. These robots have an educational dimension (robotic arm, colours sorter, gyro robot). With the Lego Mindstorms EV3 Home Edition, you will be able to build more than 12 super fun robots , like an electronic guitar, a giant scorpio or a dinosaur!
The parts between the 2 sets are different, but share some common parts (50%).
You can also make up for the Lego Technic type pieces that are missing from your kit by purchasing the Expansion Set, which includes more than 850 additional pieces enabling you to create impressive models, like an elephant!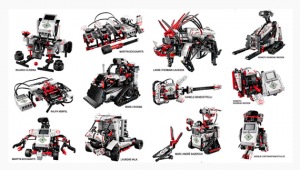 Software: what software should you choose for your EV3 kit?
While a certain amount of confusion and doubt surround the differences between the Retail Edition and the Education kit , it's worth knowing that they both share the same programming language, commonly called EV3-G . Neither kit comes with a software CD , so you'll have to remember to download it. We strongly recommend that you do this before purchasing your kit, to make sure all your hardware and operating systems meet the minimum system requirements .
For the Retail Edition , the software is available for free download from the Lego website . There is a content editor, plus tutorials and instructions for each type of model. It is compatible with the sensors found in both the Education kit and the Retail Edition (after downloading the "EDU" blocks).
The software for the Education version is free as well, you can download it here . In addition to the content editor, this software also includes data logging tools that are extremely useful for teaching purposes.
You can however use a version of the EV3 software intended for one of the kits with the other kit (we recommend trying the free Retail Edition version before purchasing the Education license), and you can even install both software on the same computer!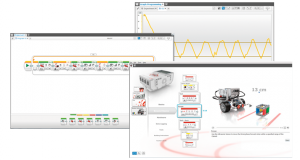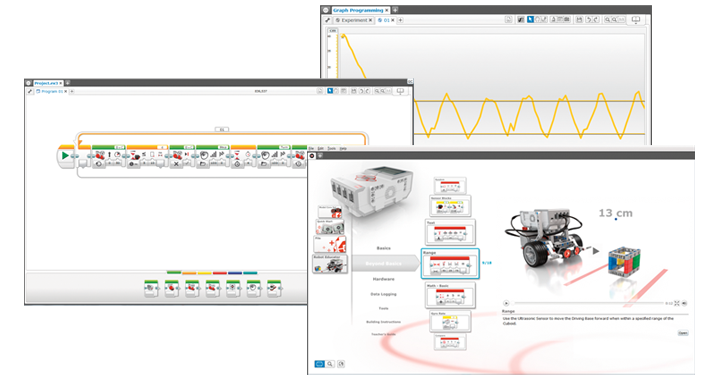 Conclusion
You might be tempted to think that one of the kits is designed for having fun and the other for learning, but it's always possible to learn while having fun, so you can easily use the site's Retail Edition in a school setting and the Education kit at home. And don't forget, you can always add accessories if you want, which is one of the great advantages of the Lego world!