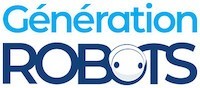 My Cart
0
item(s)
-
€0.00
There are no more items in your cart
You will find here different Lego Mindstorms sets, such as the Lego Mindstorms EV3 set but also some expansion sets, which will broaden your experience with the Lego Mindstorms platform. These sets will allow you to work on different thematics such as mechanics or renewable energy.
Spike Prime is a colourful STEAM educational kit, created by LEGO, that allows progressive learning of programming, robotics, and scientific disciplines – combined with just the right amount of fun to keep children captivated!
Out-of-Stock
This LEGO Spike Prime Expansion Kit allows you to expand on the experiments conducted using the basic robotics kit. Even more hours of STEAM learning and fun!
Product available for orders
The brain of your robot, the EV3 intelligent brick gathers information coming from the sensors, processes it and sends commands to the actuators. The Lego Mindstorms EV3 intelligent brick provides USB, Bluetooth and Wifi connectivity for easy programming.
Product available for orders