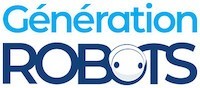 My Cart
0
item(s)
-
€0.00
There are no more items in your cart
2005544 LEGO Mindstorms EV3 Design Engineering Projects
LEGO Mindstorms EV3 Design Engineering Projects: the complete teaching programme by Lego
With LEGO Mindstorms EV3 Design Engineering Projects: the complete teaching programme by Lego LEGO Mindstorms EV3 Design Engineering Projects, you will embark on an adventure that could prove life changing for your students.
Please note that to use the Lego Mindstorms EV3 Design Engineering Projects, you need the Lego Mindstorms Education EV3 Software Licence.
This curriculum feature several activities which aim to teach the core concepts of engineering. Lego really did a noce job, as each activity follows the same process used by scientists and engineers in real life.
In any case, one thing's for sure, they're not about to forget their third-form teacher who let them build, improve, and fully program a mobile and autonomous robot!
Because this really is a complete teaching programme, a "curriculum", capable of providing up to 30 hours of learning and allowing teachers to teach numerous disciplines, including maths, physics, computer programming, solid geometry, engineering, and problem solving.
Even better, it's carried out within a group, as a collective effort, meaning students will learn to communicate clearly while working towards a concrete outcome involving the completion of lots of fun activities.
Each project starts with a design brief, and throughout the activity process, the students will develop creative thinking, problem solving, teamwork, and communication skills.. A set of qualities useful required for success in school and beyond!
2005544 Lego teaching programme: learn while having fun
For Lego, learning through doing, having fun, and succeeding is key. Each robot can therefore be assembled without difficulty in the space of 45 minutes in the right conditions.
Once the building stage is completed, you'll have all the time you need to address various topics such as programming, making improvements, and problem solving.
You're free, and your students will have all the time they need to be carried away by your enthusiasm – you can't put a price on that!
Technical specifications of 2005544 LEGO Mindstorms EV3 Design Engineering Projects
This curriculum is digitally-delivered and installs directly into the Lego Mindstorms Education EV3 programming software (LME EV3) lobby. The editor enables teachers to customize the curriculum and create their own lessons and enables students to create their own digital workbook, making classroom management and assessment easier. The Design Engineering Projects curriculum was written to match national curriculum.
NOTE : no Lego parts are included in this product, the Lego Mindstorms EV3 Design Engineering Projects is a software designed for a teaching environment. The best kit to get to start a Lego MINDSTORM workshop, is definitely the Lego MINDSTORMS EV3 Education kit.
Customers who viewed this item also viewed