Background
The NAS (Nad Al Sheba Sports Tournament) is an annual event organised by the Emirate of Dubai . In 2015, it attracted some 4,000 athletes. HQCREATIVE, an event management agency that specialises in creating shows for the United Arab Emirates' main official events, was responsible for organising its 2016 opening ceremony.
HQCREATIVE wanted to give the NAS sports tournament a futuristic kick-off by choosing the NAO robot to present the opening ceremony. They therefore contacted Génération Robots in the hope that we could develop a solution that would live up to the occasion!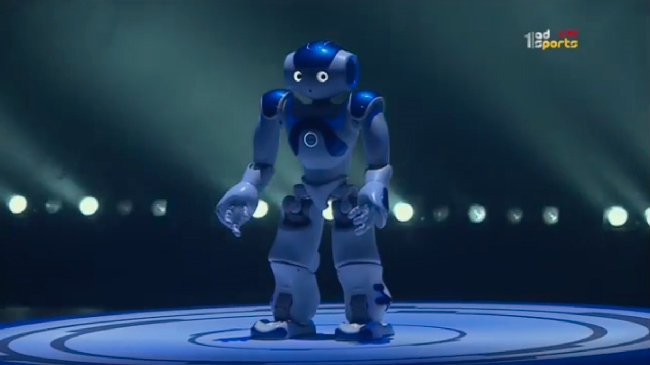 The challenge
To present the opening ceremony, the NAO robot would be standing on a platform, in the glare of the spotlights, and have to announce the different sports covered in the 2016 NAS tournament programme.
Because such a large venue would require a more powerful voice than that of a mere robot, a voice-over would then take over and present the various disciplines. NAO had to therefore synchronise its movements with this voice-over, a bit like lip-synching!
After the introduction would come the show, including acrobats on hoverboards, a Lords of Lightning light show and dancers moving around the NAO robot. The NAS tournament is a major national event that is filmed live. Our engineers therefore had to be ready for anything to ensure the show ran smoothly!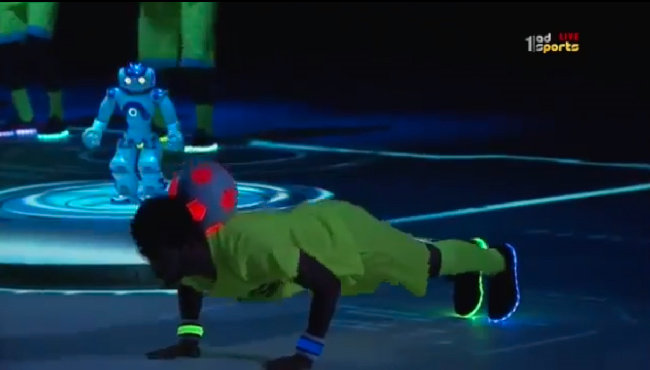 The solution
Our professional service-robotics engineers began by developing an animation sequencer to synchronise NAO's movements with the show's timecodes. First, they created a sequencer in Python, then a JSON file that would load the various movements in synchrony with the ceremony (film, voice-over, dancing, etc.).
We also had to create a well-stocked animation library, allowing NAO to always appear alive and move as smoothly as possible.
For this type of development, we generally suggest that one of our GR Lab engineers be present on site when the event takes place, to ensure everything is as it should be and to deal with any last-minute problems.
Because, as everyone knows, unforeseen things can happen at a live show ! In this case, we found out when we arrived that during the grand finale the dancers would be moving around on Tesla coils. What they didn't realise was that these giant transformers produce an electromagnetic field sufficiently powerful to neutralise the NAO robot as well as its platform.
We therefore had to adapt our software solution on the ground, so that NAO would go into safety mode and disable its motors when the coils were operating at full capacity!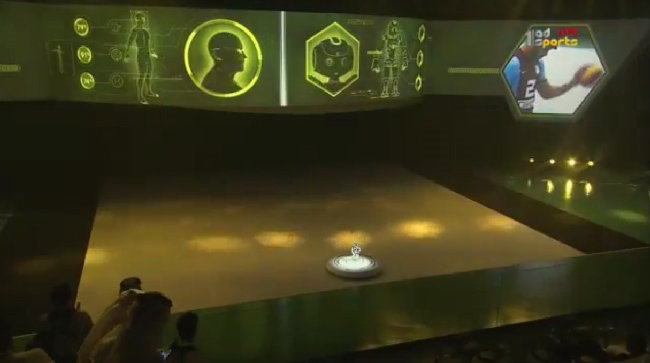 The results
Mission accomplished. The opening ceremony of the NAS 2016 tournament went as planned and even made the headlines! This project, relatively simple in appearance, was peppered with different challenges commonly encountered in the world of entertainment. The key in this case was our engineers' ability to adapt, as they were capable of successfully changing the animation and software solution initially planned to overcome the difficulties encountered during the show.
We realised upstream that this development would call for a modular software solution , as a result of which the changes we made at rehearsals did not affect the stability of our software.
---
Our GR Lab engineers specialise in developing innovative, customised robotics and artificial intelligence solutions for professionals, like the robot created for HQCREATIVE.
If you have an idea for a project, feel free to contact us so we can help you bring it to life. Our service and software will make the difference!
Contact us at contact@generationrobots.com or by phone at +33 556 39 37 05 .