The fourth edition of Innorobo has just finished in Lyon, featuring more than 300 different robots, ranging from industrial to service robots.
Among these robots, some robots are halfway between industrial and service robots, we call them cobots or collaborative robots.

One of the most famous example and the most shwocased during the tradshow was Baxter, Rethink Robotics' collaborative robot. The expression collaborative robot, or more commonly called cobot, refers to robots intended to physically interact with humans in a shared workspace, and designed to support workers with the most difficult tasks.
Baxter cobot has been featured on major nationwide magazines and site thanks to its humanoid aspect, unlike other cobot still looking like industrial robots.
Telepresence robots have also been showcased this year, and one of the main telepresence robots was Double telepresence robot by Double Robotics aimed for a domestic and professional working environment. Consumers and remote workers can intuitively navigate and use Double telepresence robot, making it the ideal alternative to videoconferencing tools.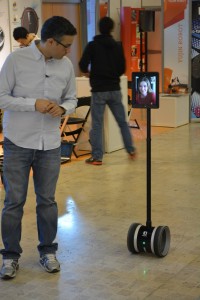 Finally this tradeshow allows also to observe the growth potential of the robotics sector. Companions Robots such as humanoid programmable NAO Next Gen robot doesn't need an introduction anymore. However its new apps such as the one developped by HumaRobotics turns a NAO Next Gen into poker playing buddy with funny catchphrases. Many attendees could experience what gaming could be like with NAO Next Gen.
Find all Innorobo 2014 pictures on our Facebook page: Publication de Génération Robots .