RoboBusiness Europe 2014, is an international convention for robotics which took place this May in Denmark in the beautiful city Billund, right next to the original Legoland amusement park. Of course Generation Robots could not resist to be present at this event, so we packed our loved Baxter robot , called "Bob", and traveled to the original Legoland , the one in Denmark obviously. As we arrived way too early, a short visit inside the Legoland was inevitable. As the force was with us, we even managed to overcome the hotel security.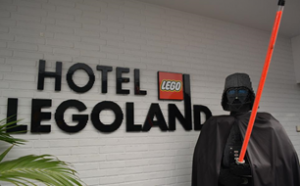 Our selection of talks
RoboBusiness is an insightful event, where you can listen to talks about key robotic developments from all corners of our small world.
As we are currently developing a bin picking system with a robotic arm and a vision system, we selected talks about manipulation, object recognition and sensors.
So if you listen to the experts, "Don't spend to much time on object recognition as there are many challenging tasks for this scenario. For a good bin picker you need two things: time and money .
The main challenges for a bin picker are:
Object recognition
Gripping
Collision free robot motion planning
Random part locations
Overlapping parts
Different parts
Cycle time
Integration
Additionally you face three main issues:
Maintenance costs
Solutions for customers requirements
Reliability and ease-of-use of the system
In another session the German largest printing company representative explained how they produce millions of pages daily, but the strange fact is that 90% of the robotic automation benefits the car industry, while the printing industry is less automated despite a 35% turnover higher! Interesting isn't it?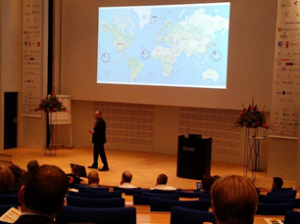 Finally another talk about common sense caught our attention. We heard that a blind person can manipulate objects better than someone without touch sensors in his hands, so instead of relying on vision, torque sensors can be a very useful addition. A video of a robot was shown, putting balls or cubes in the right compartment. The robot goes roughly to the hole where it assumes it has to drop the object. Afterwards only by sensing the resistance, the robot finds the right spot and orientation to drop the object. Could you imagine a combination of both strategies?

At the exposition there were many different robot systems, so you will always find something that attracts your affection, such as the famous programmable humanoid NAO robot.
It is always fun to exchange ideas with other researchers and get inspired by their approaches. There were so many interesting and different talks from experts about the best human robot interaction. We all agreed on the fact that existing robots are fast and accurate, but these robots need a lot of setup time and are not very flexible. Specific positions in production cannot be replaced by robots. This is why developing collaborative robots is necessary, as they work hand in hand with human workers. For example, a robot could assist a human with heavy parts or could prepare or sort them. Our focus should be now more on flexibility, user interface to the robot and safe joint working environments.

Baxter robot is one of the first of the new generation of collaborative robots that is safe, flexible and easy to use. In the following pictures you see our baxter robot "Bob" handling two parts at the same time and his adventures with Boba Fett.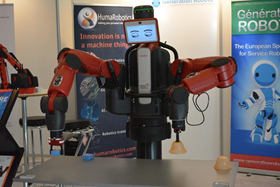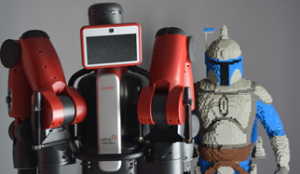 On the third day we had the possibility to get a tour of the Lego factory in Billund, where a major part of the Lego bricks are produced. It was amazing to see all the molds they use to produce the lego bricks. A very impressive autonomous mobile robot that comes to pickup the full boxes of bricks and replaces them with empty boxes. According to their statistics their factory is very secure and more people in the office get injured by chair or cable accidents!