Background
Universcience is home to two science museums: the Cité des Sciences et de l'Industrie and the Palais de la Découverte . The Cité des Sciences et de l'Industrie has set itself the objective of making scientific and technical culture more accessible to the general public.
Its aim : to democratise scientific and technical knowledge, particularly among children and teenagers, and to increase people's interest in science, research and industry-related societal issues.
The Cité des Sciences et de l'Industrie is situated in the Parc de la Villette, in the 19th arrondissement of Paris. It is a very popular place that attracts many visitors all year round. It drew over 2,600,000 visitors in 2014 alone! Universcience had about 3,259,000 visitors in the same year.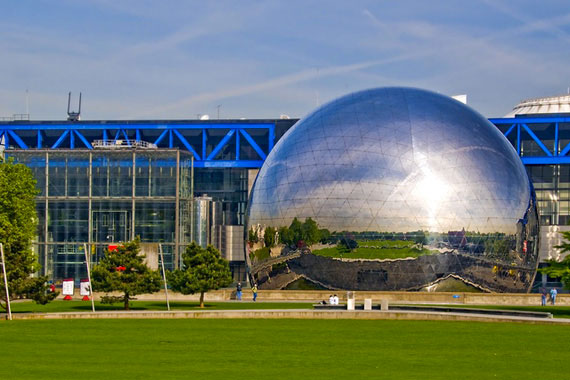 It offers lots of different "attractions", including the Cité des Enfants for children, a library, a Cité des Métiers for professionals, an aquarium and a planetarium.
Universcience wanted the Pepper robot by Softbank Robotics to join their team in order to welcome their visitors .
And it's true – who better than a friendly robot to greet and guide newcomers at the heart of this futuristic city?
So they asked Génération Robots to create a receptionist behaviour for their Pepper robot , to be inaugurated at their 2016 Science Festival.

Pepper would stand at the entrance to the Cité des Sciences et de l'Industrie , just next to the ticket office.
Her job would be to guide the user to the parts of the city open to visitors (the Géode, the library, the Cité des Enfants ), provide information on the different available services (restaurants, cloakroom), and propose activities and games depending on the user's age (Pepper likes to play!).
Pepper took up her new position at the Cité des Sciences et de l'Industrie at the launch of the Science Festival on 7 October 2016 . She has now landed a permanent contract, so will hold her position for as long as she is able!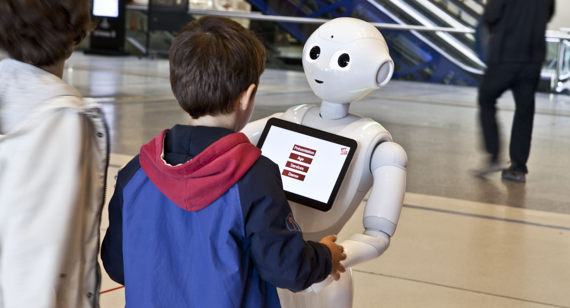 The Pepper robot, programmed by Génération Robots, awaits you at the Cité des Sciences
Challenges
The main challenge we came up against when working on this mission involved creating an app that was as fluid as possible . Pepper likes to talk, she has to encourage those she's communicating with to interact a great deal, either orally or using the different buttons on her tablet, in order to obtain the required information.
So we had to ensure visitors could find the information they needed as quickly as possible , to prevent them from getting bored and leaving disappointed with their user experience.
The second challenge (this one more obvious to the end user) involved offering our customer the possibility to easily change the dialogue of the Pepper robot, without having to ask Génération Robots.
This is because the Cité des Sciences et de l'Industrie is a place that is constantly evolving. There are always new exhibitions being created, new attractions to see and scientific events to attend!
Solution
# Challenge 1 – A fluid app for the best user experience
We overcame the problem of app fluidity by integrating an "Interrupt dialogue" function into the Pepper robot. This new functionality allows users to continue browsing Pepper's tablet before she reaches the end of her speech.
It is a feature that has proved particularly useful with children , who tend not to pay much attention to what Pepper is saying, and prefer to look at her tablet and click quickly on the different navigational buttons.
The "Interrupt dialogue" function offers visitors the possibility to access the desired information very quickly (although it means they don't enter into a real discussion with the Pepper robot, which is a shame). App fluidity was particularly important because it would be used by children born with and used to using these new technologies!
We also created a variety of movements and gestures typical of receptionists (for example to indicate the location of the cloakroom or shop), in order to give visitors the even greater impression that they are interacting with an intelligent being .
# Challenge 2 – The ability to easily change Pepper's usual dialogue
This involved making a back-office improvement to the robot, allowing its owner to easily and quickly change the dialogue .
By offering customers more freedom, Génération Robots gives them full ownership of their robot and allows them to develop their solution.
We designed a website that serves as a user interface. This site, connected to Pepper, displays everything that Pepper says and allows it to be edited. So all you have to do is alter the dialogue using the interface, relaunch the app, and you're done!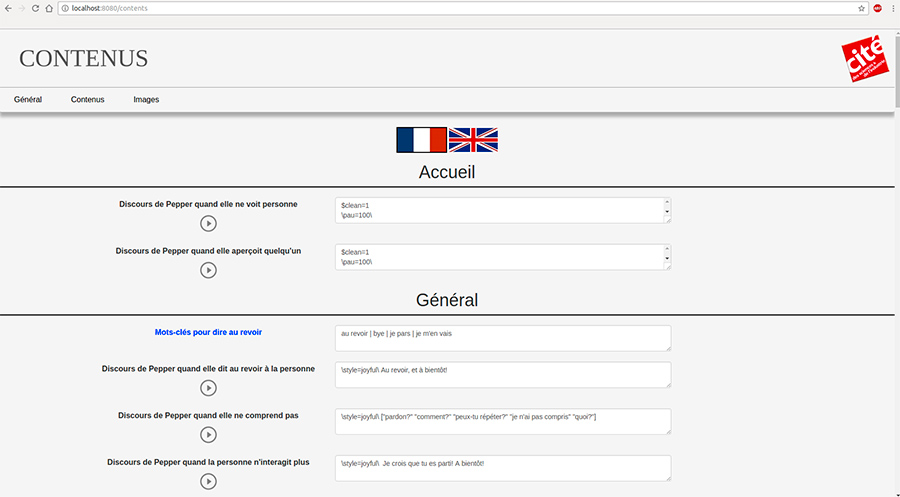 This web interface also allows you to change the images that Pepper displays on her tablet and includes in her dialogue (for example exclusive photos of a new exhibition that is being set up, or a QR code that will give those who scan it a discount or gift!).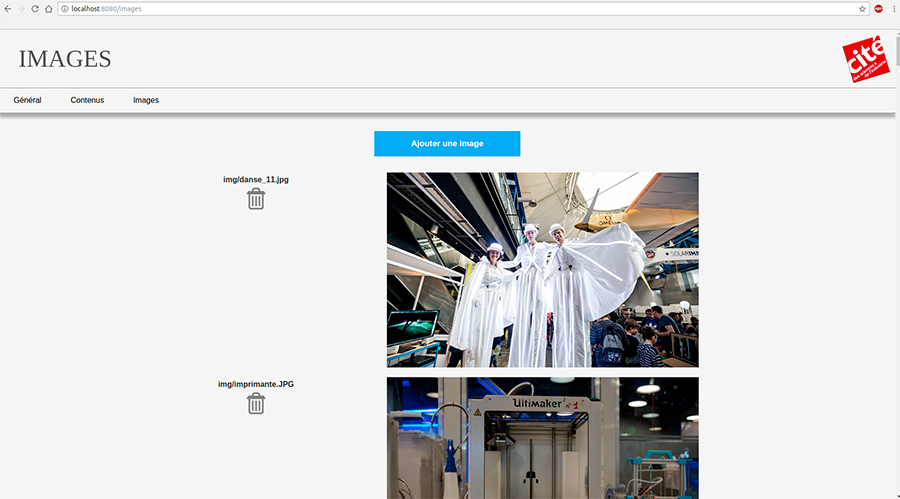 The customer can also configure the length of time these images are shown, enable/disable speech recognition, and so on.
Results
The Pepper robot had the desired effect! As expected, lots of children (and adults!) quickly gathered to talk and interact with her. Children are very curious, and big fans of robots! Some also wanted to touch her to see what she was made of.
The members of the Universcience team were thrilled with their new colleague and with everyone's enthusiasm for the Pepper robot , created by Softbank Robotics with a behaviour developed by our GR Lab .
Media coverage was very satisfying (see some of the articles below), and a Secretary of State ( Thierry Mangon ) also spent some time with Pepper! There has been a lot of activity on the social networks surrounding Pepper's arrival at the Cité des Sciences et de l'Industrie , especially on Twitter .
Conclusion
We saw just how important the tablet is , because it's generally what users choose to interact with Pepper – visitors do not necessarily feel comfortable approaching and talking to a robot! It's therefore extremely important not to overlook this point, and to make sure it's attractive. A website that's not user-friendly will not attract visitors, and the same applies to a tablet.
It's also important to allow the robot's owners to customise the dialogue themselves , thanks to a more flexible app offering the possibility to develop the robot to meet new needs .
---
Our GR Lab engineers specialise in developing innovative, customised robotics and artificial intelligence solutions for professionals, like the robot created for EDF.
If you have an idea for a project, feel free to contact us so we can help you bring it to life. Our service and software will make the difference!
Contact us at contact@generationrobots.com or by phone at +33 556 39 37 05 .