Livestock farming: an activity where robotisation makes sense
In the livestock industry, scraping manure slurry is a necessary but time-consuming and exhausting task, sometimes required several times a day.
There are different ways of doing this: flushing, automatics scrapers (with a chain, cable or rope), tractor equipped with scraper, etc.
These methods, used in the vast majority of farms, are onerous:
Manpower resources (to drive the tractor, take out animals)
Monitoring and maintenance (re-tensioning of chains, ropes or cables)
Appropriate building architecture (slope of 1.5% to 2% for flushing, floor layout allowing passage of a rope, cable or chain)
In this context, using an autonomous robot to clean slurry makes perfect sense, and offers real benefits for farmers:
No human intervention
No need to change the building's structure or install additional facilities
Farmers can program the frequency of cleaning (to clean dirtiest areas more often)
Easier recovery of liquid manure (biogas production)
CRD: SPECIALISTS IN AUTOMATED FARMING SOLUTIONS
CRD (Concept Rolland Développement) designs automatic solutions for feeding and for effluent cleaning, management and recovery at livestock farms.
Backed by 20 years of experience, CRD has already equipped several thousand sites in France and abroad.
CRD's global footprint
The company also has an R&D department that studies, tests and builds the systems of tomorrow.
CRD equipment manufacture meets strict specifications. CRD chooses its service providers and partners carefully according to production and service reliability.
GÉNÉRATION ROBOTS: EXPERTS IN SIMULTANEOUS LOCALISATION AND MAPPING FOR AUTONOMOUS ROBOTS
In the course of its different projects, Génération Robots has acquired strong expertise in mapping and localisation, both for domestic robots equipped simply with 2D LIDARs and designed to move around in a flat and static space, and for more complex robots with 3-dimensional mapping systems operating in dynamic outdoor environments.
CRD wanted to transform one of its agricultural machines into a mobile robot capable of functioning autonomously in a demanding environment. Naturally, it turned to Génération Robots for help. Our Génération Robots engineers equipped the robot with various sensors and created all the mapping, localisation and navigation software.
They combined use of different localisation systems, offering complementary strengths, with appropriate data fusion strategies enabling the CRD robot to successfully accomplish a mission in particularly complex surroundings: few visible landmarks, numerous cattle obstructing the LiDAR field of view, very slippery ground, numerous slopes and a sometimes mobile environment.
ASPI'CONCEPT ROBOT: THE CRD SOLUTION
The CRD R&D department has 20 years' experience of managing and recovering agricultural effluents, which it has used to design and build its own Aspi'Concept robot, an autonomous robot capable of vacuuming and scraping for optimal floor cleaning.
Technical specifications of the Aspi'Concept autonomous mobile robot:
Mobile stainless steel robot with powerful vacuum pump (thick slurry suction possible)
2 drive wheels, 1 front brake shoe
No-load weight: 500 kg
Laser-guided with 360° vision
Large slurry tank (350 l) with quick emptying
Equipped with a 1.5 m wide rubber scraper blade with castors at the ends (more efficient cleaning of corners)
Autonomy: 12 h
Charge time: 12 h
Possibility to add a water tank and nozzles (2 l/min)
Scraping on a flat floor or slope (up to 8%)
Navigation on a solid or slatted floor (pumping of slurry disabled on the latter)
Can work in several buildings (80 to 100 cows)
Routes, schedules and frequency of passage configured from a tablet or computer
Advantages of the Aspi'Concept mobile robot:
The Aspi'Concept robot:
performs some of the most strenuous cleaning tasks
reduces manpower requirements
saves time
works day and night, indoors and out
allows freer movement of animals and employees
improves animal well-being and their environmental hygiene
requires no changes to existing building architecture
is less stressful for animals
The robot guarantees both profitability gains and significant time-savings at work.
HOW GÉNÉRATION ROBOTS SOLVED CRD'S PROBLEMS
The robot initially ran into environmental difficulties, which affected its performance:
Slippery floor, with holes and slopes
High density of cows surrounding the robot, obstructing its field of vision
Fouling of sensors over time (animal waste)
These various factors prevented the robot from functioning properly, particularly in terms of autonomous navigation.
To operate smoothly, the robot had to be able to:
map the farm
locate itself on the map
navigate autonomously following predefined paths
detect collisions
detect wheel slippage
report problems by e-mail and/or SMS
provide a web interface for the user
navigate indoors and out
monitor walkways to thoroughly clean corridors
manage obstacles
manage the state of charge of batteries
THE SOLUTION
The Aspi'Concept mobile robot's initial design included the following sensors:
1 LiDAR, positioned at the base of the robot, to enable the robot to move autonomously by following walkways
2 encoders, to collect information on the rotational speed and direction of wheel motors
Problems encountered included autonomous navigation complications due to rapid fouling of the LiDAR positioned at the bottom. And there are no reliable landmarks at this height that might serve for self-location. Also, autonomy was limited by walkway constraints.
To solve the problem of impaired robot vision, which hampered autonomous navigation (frequent splashes on the LiDAR), Génération Robots found the following solution:
Installation of a second LiDAR on the top of the robot:
A more splash-proof location
Location allowing more reliable observation of environmental landmarks
To improve the robot's autonomous navigation, our team used the AMCL algorithm and applied it to real-time mapping.
Optimising use of two complementary algorithms in this way – the AMCL localisation system combined with the Hector SLAM algorithm – enables the robot to accurately map the farm in real time.
Their data is fused dynamically according to their performance.
The AMCL system takes precedence when observation of the environment is difficult or if there are few landmarks. And Hector SLAM allows the robot to reposition itself quickly and efficiently once sufficient landmarks become available.
Our teams also added an IMU to help the robot understand its environment (slopes, drains) and movements (rotation, slipping, displacement). This is an essential sensor for a mobile robot required to move autonomously, especially in a mobile environment (cows) where there are obstacles that can affect the robot's speed (drains, slippery puddles of mud, drainage grids, slopes, etc.).
ADDITIONAL SENSORS
Our Génération Robots engineers also added a second LiDAR and replaced the first. They chose the RPLidar S1 by Slamtec.
Advantages of the RPLidar S1 for this type of application:
Long range (40 m)
Indoor and outdoor use
ROS compatible
Excellent value for money
RPLIDAR S1 360° laser range finder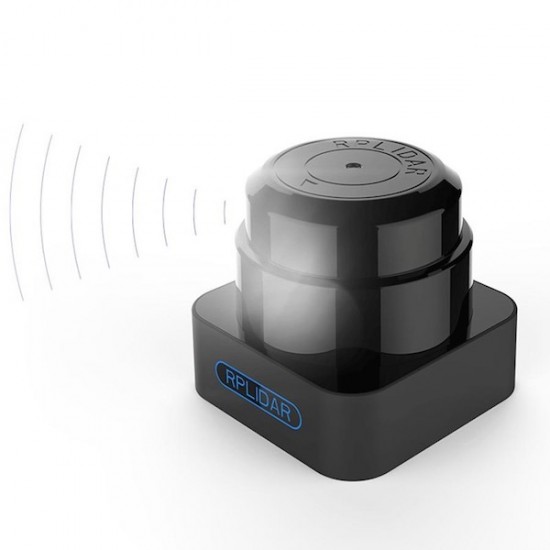 And for the IMU we chose the UM7 sensor by Redshift Labs, which our engineers had already tested on other projects. An essential sensor for good autonomous navigation.
Advantages of the UM7 inertial measurement unit for this type of application:
Easy to set up
ROS compatible
Excellent value for money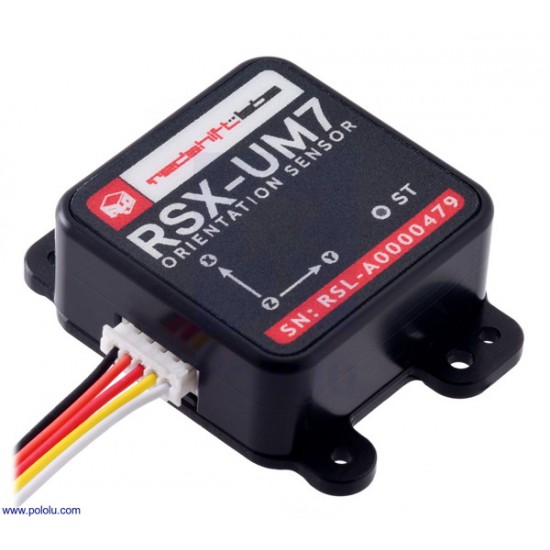 In order to establish the robot's position in real time, in addition to its movements and the topography of its environment, we fused the data from these sensors.
MONTE-CARLO + SLAM
Each LiDAR maps its environment in real time, so the robot has two maps at its disposal to choose the best path to follow. This is a great advantage for a robot that operates in a crowded environment, with lots of cows constantly on the move.
Our team improved the Hector SLAM 2D localisation algorithm by combining it with a Monte-Carlo system, an algorithmic method that applies probabilistic techniques. This solution, also called AMCL, introduces a statistical approach to real-time mapping.
PARTICLE FILTERS FOR ROBOT SELF-LOCATION
In the case of this mobile robot, created specifically for livestock farms, the algorithm assigns a probability distribution to each map and to their movement options. We thus created a scoring system based on optimised movement probabilities computed on both maps (LiDAR 1 and LiDAR 2).
The following paragraph explains how this method works in more detail:
The robot self-locates using a particle filter, in which each particle represents a possible position of the robot. The robot uses its sensors to analyse its environment and assigns a probability score to each particle.
The higher the probability of the robot location being accurate, the higher the score.
The lowest scores are then eliminated and the algorithm calculates the average of the best scores to obtain the robot's current position.
The results obtained with this method are incredibly accurate, even when the robot is in motion.
Convergence of AMCL node particles to determine the robot's position
Convergence of AMCL node particles to determine the robot's position
THE PROGRAMMING AND CONFIGURATION INTERFACE
Our team developed a Qt interface for users to be able to program and configure the Aspi'Concept mobile robot:
Interface accessible from a web browser
Creation of paths
Creation of maps
Planning of cleaning sessions
Memorisation of configurations and models
Robot configuration
Reception of error messages, notifications, alerts
Control interface of the Aspi'Concept autonomous robot
Control interface of the Aspi'Concept autonomous robot
OUTCOMES OF THIS LIVESTOCK FARM MOBILE ROBOT SLAM PROJECT
The software developed by Génération Robots helped CRD to deploy their robot at agricultural sites more rapidly. 20 units have been built so far and are already in operation.
Knowledge was transferred between Génération Robots and CRD (use of the robot, understanding of the software, maintenance, etc).
Our GR engineers are qualified to help you with your own robotics farming projects – Contact our experts