Designed in Saint Emilion, Vitirover is an eco-friendly and autonomous robot lawn mower built for vineyards and other farmland. This mobile robot drives around the lands without damaging the soil, the vines or the seedling. Château Canon La Gaffelière, an organic certified vineyard in Saint-Emilion, has recently tested this robot lawn mower for two successive seasons. The goal of this experiment? To find a way of tending the soil around the vines, without having to use heavy agricultural machines that compact the soil. Nicola Fagotto, owner of the Château Canon La Gaffelière, shares his feedback with us.
Reducing the need for mechanized operations
First tested on a single hectare, and again on two hectares the following year, the Vitirover mobile robot has shown promising results. Usually, the vineyard's workers carry out 2 manual heaving/put on sessions, and 2-3 mowing jobs with an inter-row machine (depending on weed growth).
Every autumn, a cover crop is sown in the vineyard. Cover crops are really important in sustainable farming, as it improves soil fertility, raises soil moisture holding capacity, limits nutrient runoff, and helps suppress some pests.
Since the Vitirover experiment started on the dedicated 2 hectares test plot, no more heavy farming machines equipped with different tools are used to tend the soil under the vineyard rows. Only the small Vitirover is required.
Château Canon La Gaffelière is a wine estate with many old vine stocks. One of the key benefits of relying only on the Vitirover to tend is that there is a significant decrease of broken old vine stocks. No large and heavy machines travel in the inter-rows anymore. They have been replaced by the Vitirover.
The rate of old vines replacement has equally decreased as a result.
Older vine stock are essential:
➽ They deal better with challenging weather conditions (thanks to their deeper and well-developed root systems, they can go deeper to get water and nutrients).
➽ Complexity of flavors: higher quality of grapes, with concentrated flavors and aromas.
➽ Disease resistance: old vine stocks longevity contributes to greater resilience against diseases or pests.
➽ Brand image: old vine stocks are seen as a mark of quality and authenticity, which is an asset in standing out in the wine market.
Cost-effectiveness and preservation of plant material
Thanks to Vitirover, plant material has been better protected. Limiting the frequency of vineyard machines passing through the vines has reduced soil compaction ( notably during the winter months).
The first year, lawn mowing sessions were cut down to only 2. The following year, the lawn tractor wasn't used at all during the season. Nicola Fagotto comments: "The lawn tractor is only used as a last resort, and only on the inter-row. »
Beyond the obvious benefits for the vines and the soil, Vitirover is also quite cost-effective.
"We make significant fuel savings (Vitirover is powered by sunlight, unlike the machines, which run on petrol). What's more, the amortization period is longer », adds Nicola Fagotto. Using an autonomous mobile robot instead of agricultural machines also means that the wine estate's workers can spend less time lawn mowing, and more time on other missions, such as planting, harvesting or disbudding, or even bottling and packaging.
Vitirover: A constantly growing company
In 2023, the company reached a new milestone by launching the production of its Vitirover lawn mower robots at MMT-B, an emblematic factory located in Northern Bordeaux. In order to successfully achieve this step, the two co-founders have reinforced their teams with seasoned recruits.
In other news, Vitirover recently launched its "University" edition, designed for Higher education and Research. Available on our website, this release fosters online collaboration between professors, students and researchers. Online documentation covers a wide range of topics, projects and tutorials, from AI and IOT to solar energy and fog computing.
VITIROVER
Academic Version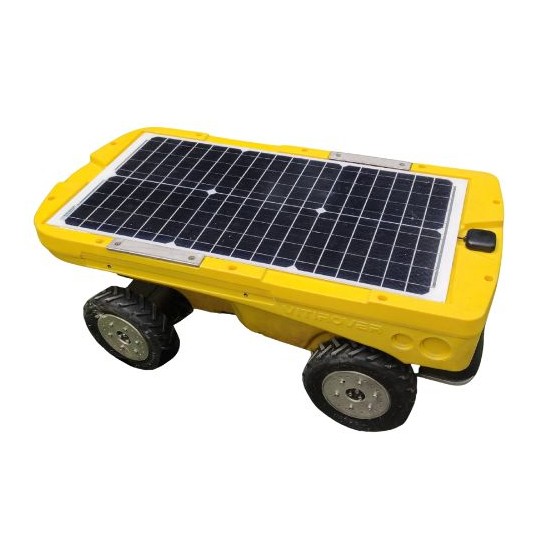 Autonomous movement
Power supply: Solar Panel
Max speed: 900 m / h 
ROS2 compatible

Max slope:

15 à 20%