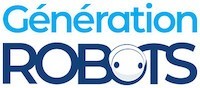 My Cart
0
item(s)
-
€0.00
There are no more items in your cart
Ozobot - mini educational programmable robot
Here is a one of a kind little robot!
The Ozobot robot has a 2.54 cm diameter, and that makes it the smallest educational robot in the world! Despite its small size, it has a very powerful brain, and is a great tool to learn the basics of programming and coding in a fun and intuitive way.
Suitable to 6-year-old children and (much) older, the youngest can program the robot using markers to draw tracks! Ozobot will follow a line and modify its behavior as soon as it drives over specific color sequences (for instance, driving over a green-black-red sequence will make the robot turn left!).
Older children can code with OzoBlockly, a colorful block-based editor with 5 levels of complexity. Apps are also available, for both BIT and EVO (available on Apple or Android) or using the app online.
Ozobot has been deployed in over 10 000 schools worldwide. It is a great and affordable desktop robot to learn coding!
Two versions of Ozobot are available:
Ozobot Bit+: this new version of the Ozobit Bit lasts 3 times longer, features improved LEDs and a new power switch for energy efficiency. It is compatible with the Arduino IDE. It is now possible to transfer programs via USB from Ozobolockly (Chrome browser). It is accessible to children from 6 to 10 years old.
Ozobot Evo: accessible to children from 8 to 14 years old, it includes more sensors and actuators (optical and proximity sensors, Bluetooth, speakers) and LEDS than the Bit+.
These two versions are sold as an "Entry" kit including :
1 robot
1 power cable
4 colour-coded markers
1 starter activity booklet
1 zipped protective case.