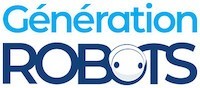 My Cart
0
item(s)
-
€0.00
There are no more items in your cart
Bee-Bot Alphabet Mat
Just how well do your pupils know their alphabet? Can they create words using their Bee-Bot mat? Whether they can or not, learning the alphabet and reading has never been quite so much fun!
Bee-Bot Alphabet Mat: programming from A to Z
Combined with a few activity cards, this Blue-Bot and Bee-Bot Alphabet Mat will teach your pupils the basic functions of robotics and programming, while also improving their reading, writing and spelling skills. All that remains is for them to send their robot to the right squares to spell each word correctly!
Technical specifications of the Blue-Bot Alphabet Mat
30 squares
For Bee-Bot and Blue-Bot robots
Resources for the Bee-Bot educational robot

The two steps below explain how to test your robot for power problems. 1) Reinitialize the robot: Open the battery compartment by loosening the screw. The screw is triangular and is located on the square plate at the bottom of the robot. Remove the battery and reinsert it to reinitialize your Bee-Bot / Blue-Bot. If that does not help, continue with point 2. 2) Test with a different battery: Insert a working battery to see if the problem is related to the battery or the robot

---
Customers who viewed this item also viewed