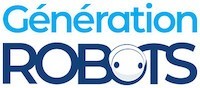 My Cart
0
item(s)
-
€0.00
There are no more items in your cart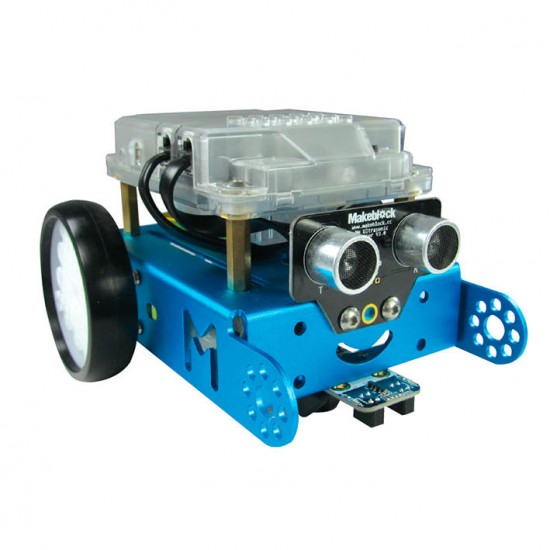 mBot robot v 1.1, 2.4 GHz
We're proud to present this second version of the 2.4 GHz mBot robot! Truly a champion educational robot. Particularly fun and easy to use and child's play to assemble, it also comes with graphical Scratch-inspired programming software.
DISCONTINUED PRODUCT
The mBot educational robot works with a Bluetooth connection, so that it can be programmed from a tablet. It is now sold as a pack (
Bluetooth mBot Explorer Kit
). It is off course possible to program mBot robots from a computer by following these two simple methods:
You will need this Bluetooth dongle even if your PC or laptop already embedded a Bluetooth chip. In any case, the mBot robots can be programmed on a computer, with the code being transferred via a USB cable.
The mBot robot, a producer of fine young minds!
With the mBot robot by Makeblock, the learning process begins as soon as you open the box: when your children (or pupils) first discover their robot they'll find a series of parts, along with a multitude of modules and an infrared remote control. 
Rest assured, assembling the robot won't take more than about ten minutes, and your young prodigies will have no problem doing this on their own.
Once the mBot is fully assembled, you can begin programming. This educational robot includes numerous modules (sensors and actuators) that children can use to change their robot's behaviour based on its surrounding environment.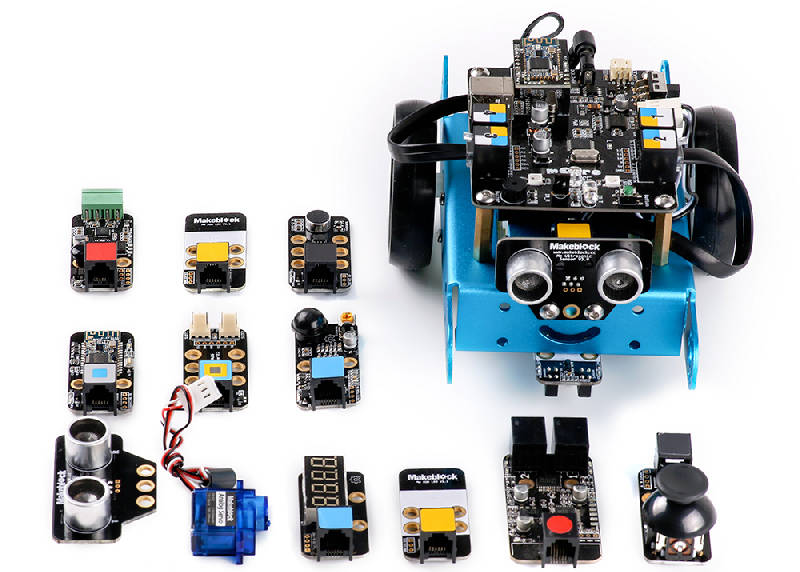 To program the mBot, you can either use the visual software designed by Makeblock and inspired by Scratch (based on the same principle of moving around different coloured blocks) or use the Arduino IDE.

An educational robot for progressing while playing
mBot is a very versatile toy, which you can use to organise line-following races, fights with other robots, football matches, obstacle courses and more! Each game requires a different program, allowing children to learn the basics of electronics, robotics and programming algorithms then see the fruit of their hard labour "at work".
They can also change and customise their robot at school or at home by adding Lego-compatible parts (Lego EV3 or Lego Technic beams and sensors, but you will need bolts!) or using more and more modules or the Makeblock add-ons (sold separately).
In terms of educating children, mBot is an ideal learning tool and comes with manuals and online courses for teachers for organising educational robotics workshops.
Technical specifications of the 2.4 GHz mBot robot
mBot robot is compatible with Wifi. If you prefer controlling it via Bluetooth, you need the mBot Bluetooth module. 
The 2.4 GHz mBot robot set comes with:
1 ultrasonic range finder module
2 RGB LEDs
1 light sensor
1 x 2.4 GHz module
1 battery holder
1 set of mechanical parts
1 line-following module
1 TX IR LED
1 push button
1 start/stop switch
1 LiPo battery connector
1 IR remote control (coin cell CR2025 not included)

1 buzzer
1 RX IR LED
2 motor connectors
1 battery holder connector
4 RJ45 connectors
Microcontroller based on Arduino UNO
Input: light, infrared, ultrasonic, presence, button
Output: motors, buzzer, RGB LED, infrared, ports
Programming with Scratch, ArduBlock, Arduino
Power: 3.7V LiPo battery or 4 AA/LR6 batteries (not supplied)
Dimensions: 170 x 130 x 90 mm
Weight: 400 g
Warning: the mBot robot is not a toy. It is designed for use in the classroom with teacher supervision.
Resources for the M90058 Makeblock robot
Like any educational robot worthy of the name, mBot comes with a long list of tools you can download for free. Check them out below!
Specific References
ean13

6928819504516
Customers who viewed this item also viewed