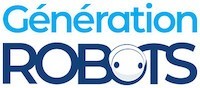 My Cart
0
item(s)
-
€0.00
There are no more items in your cart


mBot Add-on Pack - Six-legged Robot
Makeblock |
A-000000-02660
Add this 3-in-1 expansion pack to build new fun bots with your mBot robot. You will be able to create a beetle, a mantis and a crazy frog (our favourtie!)
Including €0.05 for ecotax
Without a doubt the funniest add-on pack for your mBot robot! This pack comes with different sized legs and all the necessary bolts and screws to build your new bots! (plus a small wrench).
Meet your new friends..
Animal 1 : the beetle

A beetle that moves very quickly
It will be teh fastest if you bring it into a robot fight!

  
 
  

Animal 2 : the mantis

It crawls quietly, waving its two arms..
A real hunter!

Animal 2 : the crazy frog

A little crazy frog that jumps around,
will you be able to stop it?

  
Technical specifications of the mBot Add-on Pack - Six-legged Robot
6 × Screw M4 x 8mm
8 × Screw M4 x 14mm
8 × Screw M4 x 22mm
4 × Screw M4 x 30mm
4 × Screw M4 x 35mm
8 × NutM4
16 × Lock Nut M4
12 × Plastic Spacer 4 x 7 x 10mm
14 × Plastic Spacer 4 x 7 x 3mm
24 × Rivet
2 × Beam0412-108-Blue
2 × Beam0412-092-Blue
6 × Beam0412-076-Blue
2 × Beam0412-060-Blue
2 × Plate 45°-Blue
1 × Wrench M5+M7
Customers who viewed this item also viewed