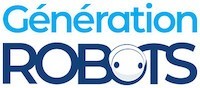 My Cart
0
item(s)
-
€0.00
There are no more items in your cart
Street Mat for Blue-Bot/Bee-Bot
Looking for a new activity mat for your Blue-Bot or Bee-Bot educational robot for use in your classroom? Try this Street Mat for Blue-Bot/Bee-Bot!
Street Mat for Blue-Bot/Bee-Bot: 27 squares for walking around town with your Blue-Bot
This game mat for Bee-Bot and Blue-Bot robots represents a small town with a main street and crossroads. It can be used in nursery schools, and even playgroups. Program your educational robot using a tablet or with the help of its directional keys so that it can safely navigate the traffic!
Technical specifications of the town centre activity mat
Age: 10 months to 11 years
1-year guarantee
The two steps below explain how to test your robot for power problems. 1) Reinitialize the robot: Open the battery compartment by loosening the screw. The screw is triangular and is located on the square plate at the bottom of the robot. Remove the battery and reinsert it to reinitialize your Bee-Bot / Blue-Bot. If that does not help, continue with point 2. 2) Test with a different battery: Insert a working battery to see if the problem is related to the battery or the robot

---
Customers who viewed this item also viewed