A look back at Innorobo 2016!
For its 6th edition, the Innorobo event was hosted at the Dock de Paris. Last week, 200 exhibitors and robots from all around the world gathered in this giant futuristic and international village. On day 2, Innrobo welcomed the general public, who came to meet the robots and their makers in a friendly atmosphere!
To each their own.. (robot!)
Innorobo is the main European event in the world of robotics. Many different sectors where robotics is currently booming are explored during these 3 days: factory of the future, e-health, smart cities, smart home, farming and agriculture..
The star of the show was without a doubt Pepper, the robot created by Softbank/Aldebaran, which European release was made official on day 1! Aldebaran went big, as they set up an entire village dedicated to their latest service robot.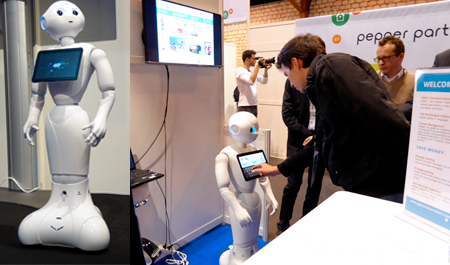 Génération Robots was part of this village, and visitors could come and discover our brand new app: Pepper Welcome, which turns your Pepper into an efficient front desk employee! With the app we developed, Pepper will be able to welcome visitors, warn employees that their appointment or a delivery has arrived, and even create and print a visitor badge with a picture!
Robots for education were another highlight, with the release of the Poppy Ergo Jr robot, designed by the Flowers team (INRIA) and distributed by Génération Robots. This 3D printed robotic arm received a lot of attention from the teaching profession, students, but also researchers and the maker community!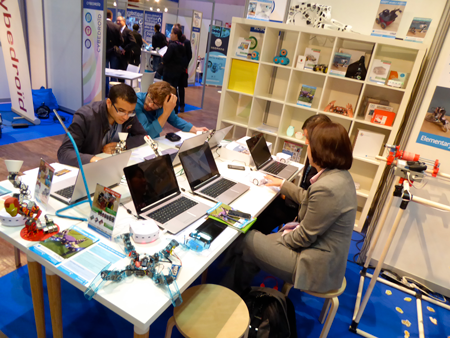 An important area in our booth was dedicated to the robotic platforms for education, and we even set up a programming bar, where visitors could come and try their hand at coding robots such as Poppy Ergo Jr or Thymio. Poppy Humanoid and the four legged robot Metabot were also in our booth, which was animated by the NAO robot!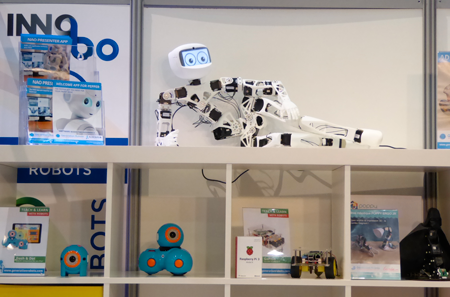 Last but not least, the collaborative robot Sawyer made its big entrance in France at the Innorobo event! Humarobotics, the exclusive distributor of the latest Rethink Robotics platform was there to introduce Sawyer to the French market!
Innorobo, 2016 edition: a booming success!
Innorobo 2016 was a fantastic event that allowed the general public to discover the many sides of the robotics world, and the professionals to meet again in a friendly and futuristic atmosphere!