Rethink Robotics yesterday unveiled its new collaborative robot, Sawyer, throughout the world
Rethink Robotics , founded in 2008 by former director of the MIT Computer Science and Artificial Intelligence Laboratory Rodney Brooks , is a pioneer in the field of collaborative robots.
In 2012, Rethink Robotics launched Baxter , a revolutionary robot designed for working alongside humans . This represented a first step during which Rethink Robotics redefined our working relationship with robots, taking them out of their cages to interact with humans and more effectively help with dangerous and monotonous tasks.
With this new collaborative robot, Sawyer, they have broken another barrier and made it even easier for robots to be included in the work place .
Without further ado, here is a rundown of what this latest Rethink Robotics robot can actually do…
Sawyer, Baxter, how are they different?
Sawyer is a powerful and efficient articulated arm designed for performing repetitive tasks requiring a high degree of precision and that are impractical to automate with your traditional industrial robot.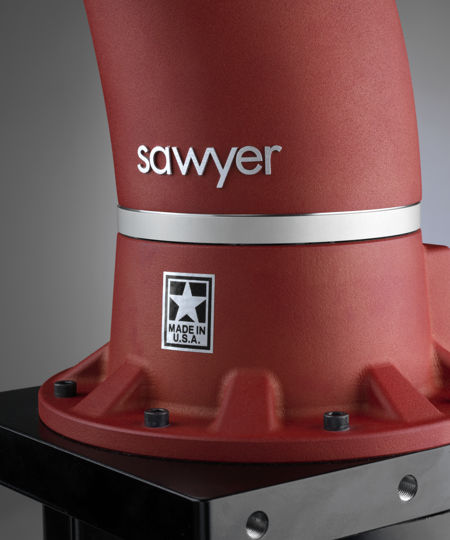 Tasks can range from loading machines to checking and testing circuit boards . Sawyer will prove particularly agile on an electric component assembly line.
Weighing 19 kg , taking up very little floor space (similar to that taken up by a human) and with an arm offering 7 degrees of freedom (DOF) and a 1 metre reach , Sawyer can be installed in places inaccessible for Baxter .
This new collaborative robot is much more flexible and agile . "The arm can just snake right in there", into very narrow spaces, says Rodney Brooks, speaking of his new robot.
Sawyer also has a new embedded vision system, with:
a camera in the head , allowing it to perform operations requiring a wide field of view; and
a Cognex camera with a built-in light source mounted on the wrist for precision vision applications.
In the future, Sawyer will incorporate more advanced features associated with this Cognex camera, for example the ability to read barcodes or recognise objects .
These important differences with regard to Baxter mean Sawyer will have its own unique position in the market, meeting different needs .
"With Baxter, we introduced the concept of robots and people working together on the plant floor," says Rethink Robotics President and CEO Scot Eckert. *"With Sawyer, we have taken that relationship to the next level, with a high performance robot that opens the door for many new applications that have never been good candidates for automation. As we continue to redefine this industry, we also continue to give manufacturers new ways of adding efficiency and flexibility into their operations."
And what do they have in common?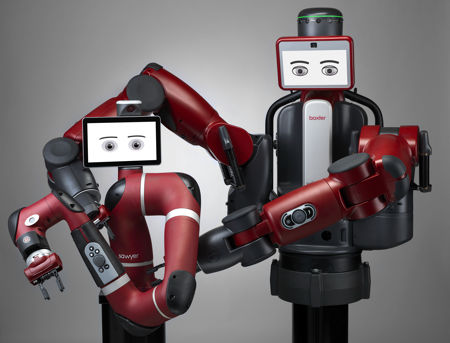 Sawyer offers the same advantages as Baxter, already distributed by Génération Robots :
Above all safety . There is no need for a cage, since Sawyer and Baxter are "aware" of their surroundings and of the operators working around them.
Compliance , in other words a robot's ability to be "flexible", allowing them to interact physically with humans in a natural and safe way.
Manoeuvrability and the ease with which humans can work alongside the machine , including the popular face screen, embedded sensors and the user interface.
The famous Robot Positioning System , allowing robots to switch between several tasks without having to teach them all over again.
Learning-by-doing , initially developed for Baxter but also found in Sawyer.
Sawyer runs on the Intera™ operating system , the same scalable and intuitive platform chosen for Baxter. So if you're already familiar with this system, you'll have a considerable advantage!
According to estimates, Sawyer and Baxter are capable of performing 90% of the manual manufacturing tasks that cannot be automated with traditional robots.
Baxter will be available later this year in North America, Europe, China and Japan. Génération Robots , official distributor for Rethink Robotics in Europe , will also supply the collaborative Sawyer robot. The HumaRobotics teams, working in the Génération Robots department dedicated to research and integration will be responsible for presenting Sawyer to manufacturers and other mid-size businesses (SME) who believe collaborative robotics represents a great turning point in industrial robotics.
Are you interested in Sawyer? Contact Generation Robots for more information.