A "digital twin" is a virtual replica of an object, process or system. It's a technology that has already revolutionised many sectors, including in industry, engineering and medicine, and is playing a crucial role in the development of smart cities. It gives access to multiple data in real time, thereby opening the door to continuous innovation, quantifiable decision-making and savings in the region of several billion per year (money, water, energy, etc.). And it all begins with highly accurate and detailed data acquisition!
Digital twin vs. 3D model
A digital twin is more than just a very accurate 3D model. The difference lies in the two-way data flow between the physical and digital worlds. This data synchronisation keeps the digital twin continuously up to date in real time, making it an efficient tool for running virtual simulations and planning different scenarios.
As per the Digital Twin: Origin to Future study, it enables:
Extremely accurate representation of physical objects, often constructed from multiple data sources – the greater the level of detail, the more effective and reliable the digital twin. Smart cities can gather data on infrastructure, vehicle traffic, pollution, demographics, etc;
Dynamic and bi-directional mapping between the physical and digital worlds. A digital twin is a living and essentially 3D model. It must therefore take into consideration not only real-time data, but also the history of this data;
And is self-evolving and self-adapting. The real world changes constantly, and so must the digital twin. It must self-optimise its performance using new sources of real-world data.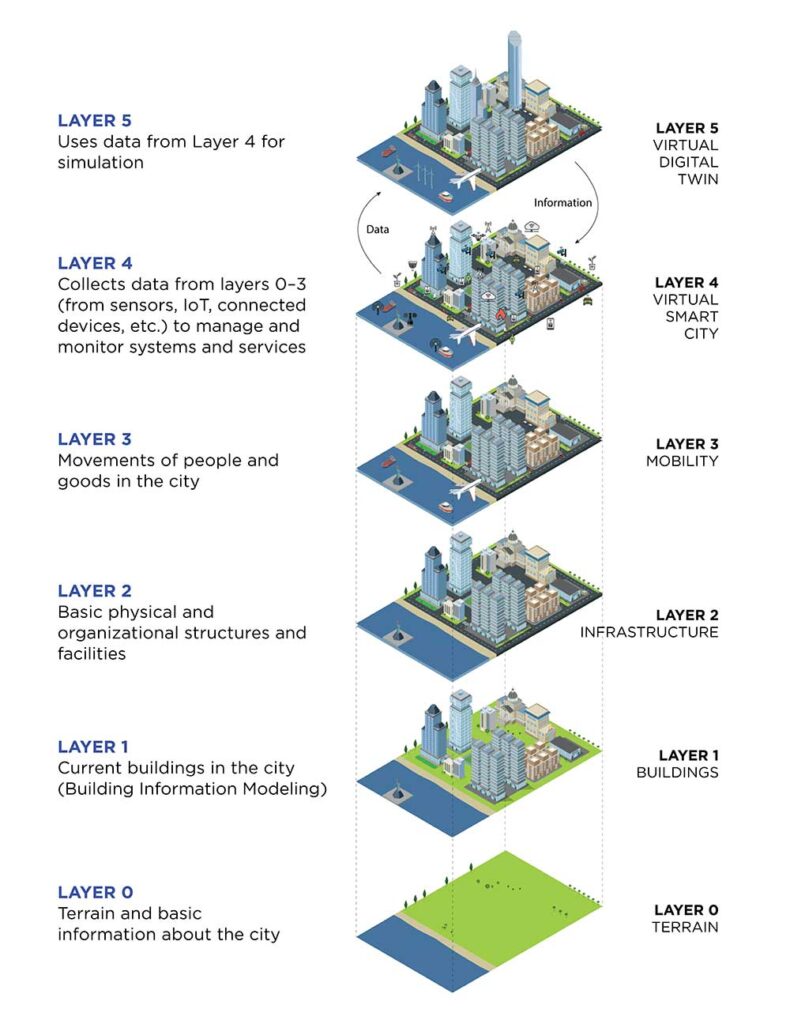 A digital twin uses overlapping layers of data to create a comprehensive and dynamic representation.
Photo credit: ©Ouster
Digital twin technology: crucial for smart cities
Cities worldwide have begun exploring the digital twin technology to develop new applications in:
Urban planning
Urban planners are running "what if?" scenario simulations on digital twins to assess the effects of new infrastructure and improve decision-making. For example, researchers can simulate the impacts of building new cycle paths on cyclists' safety, traffic flows, parking on pavements and even air pollution. Digital twins can therefore help to optimise safety, accessibility, costs, and much more.
Traffic management, with integration of connected and autonomous vehicles
As for urban planning, digital twins can simulate traffic scenarios. By combining digital twin models with real-time data, traffic operators can improve safety and traffic flows. Researchers can also run simulations to test the functionalities of the V2X (vehicle-to-everything) technology and to better understand the effects of connected and autonomous vehicles on traffic, to prepare for their introduction.
Infrastructure monitoring (roads, bridges and other infrastructure)
Algorithms can analyse the condition and wear of infrastructure in real time and alert engineers to potential problems (current or future). They can also predict how the infrastructure will stand up to different weather conditions, traffic, vibrations and other environmental stresses.
Taking these types of proactive maintenance measures will improve infrastructure maintenance over time and generate savings of several billion dollars. One report estimates the cost of deferred maintenance on US infrastructure at over $1 trillion (deferred maintenance is the accumulated cost of maintenance that has been postponed, i.e. the backlog of work caused by putting off routine maintenance and repairs).
It can also be used to monitor natural disasters, smart grids, etc.
These are just a few examples of how the digital twin technology can help to accelerate creation of smart cities, which in the long term will deliver to substantial savings.
RWTH University and the City of Aachen, Germany: pioneers in the development of digital twins for V2X simulation with Ouster lidars
Europe's largest infrastructure project is built around the Ouster lidar. The programme consists in preparing Aachen for the introduction of autonomous vehicles by building a connected infrastructure that understands the traffic generated by all road users. It's funded by the German Federal Ministry of Transport and Digital Infrastructure and by private stakeholders, such as Ford Mobility and Vodafone.
For this project, researchers at the RWTH Aachen University require precise and detailed data on the infrastructure and on all road users and their travel habits (anonymous and confidential data). To collect this data both accurately and seamlessly, they turned to the Ouster lidar.
Simulation conducted on a digital twin model using merged point clouds from several Ouster lidar sensors.
Photo credit: ©Ouster
Phase 1: Anonymous collection of digital twin data using the Ouster lidar
Researchers at the RWTH Aachen University had first to develop the infrastructure's digital twin (high-resolution data, user behaviour and vehicle movement). They could then use this digital twin to develop and test autonomous vehicles and V2X simulations. By combining over 100 Ouster OS1 lidar sensors and more than 200 cameras, the researchers were able to build 60 roadside measurement stations along a 4.3 km stretch of road.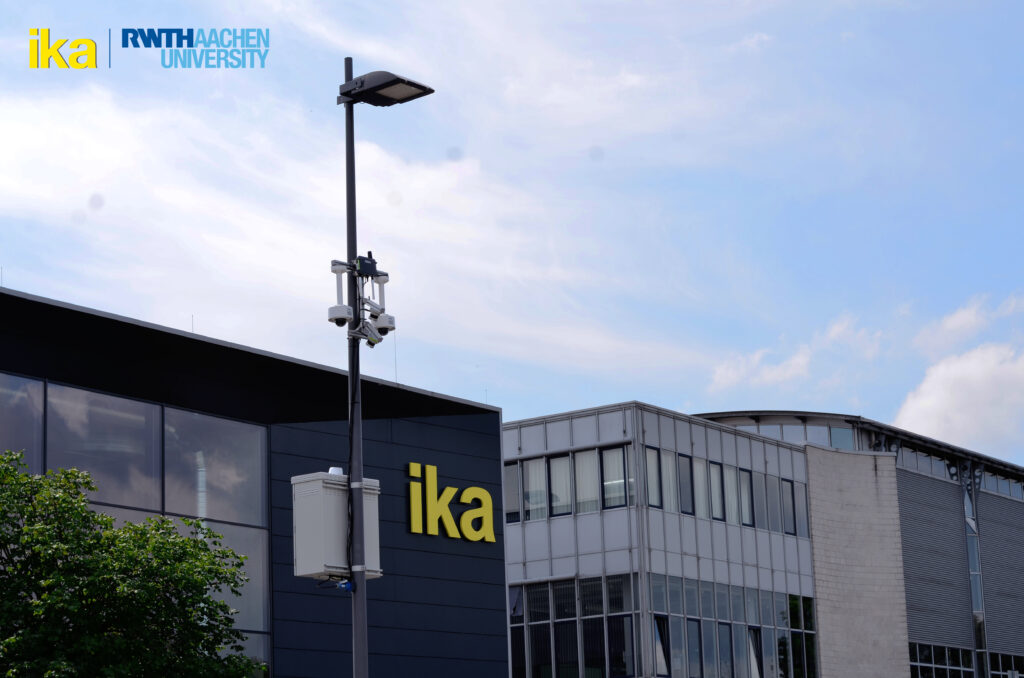 Measuring stations equipped with Ouster OS1 lidars deployed at the roadside along a 4.3 km stretch of road.
Photo credit: ©Ouster
The Ouster OS1 lidar plays an essential role in this detection system and increases camera resolution in low light and bad weather conditions. It's a high-resolution lidar that collects precise data on object position and location, accurate to within one millimetre. The Ouster lidars have an IP69K and IP68 rating, so are resistant to various weather and environmental conditions (including vibration and dust).
Unlike cameras, which rely on computer vision to calculate distances and position objects, lidars can directly give ultra-precise measurements. And this precision can make a huge difference, particularly in terms of road safety.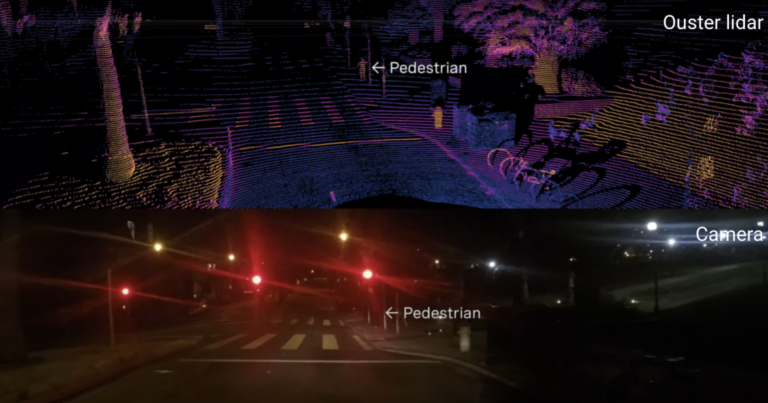 A pedestrian at night captured with the Ouster OS1-128 compared to a camera. Photo credit: ©Ouster
The high-resolution data collected by Ouster 128-channel OS1 lidars also increases detection range. It allows more accurate object classification by providing more point clouds. Researchers can then use this data to develop algorithms that recognise and classify cars, trucks, pedestrians, two-wheelers, etc.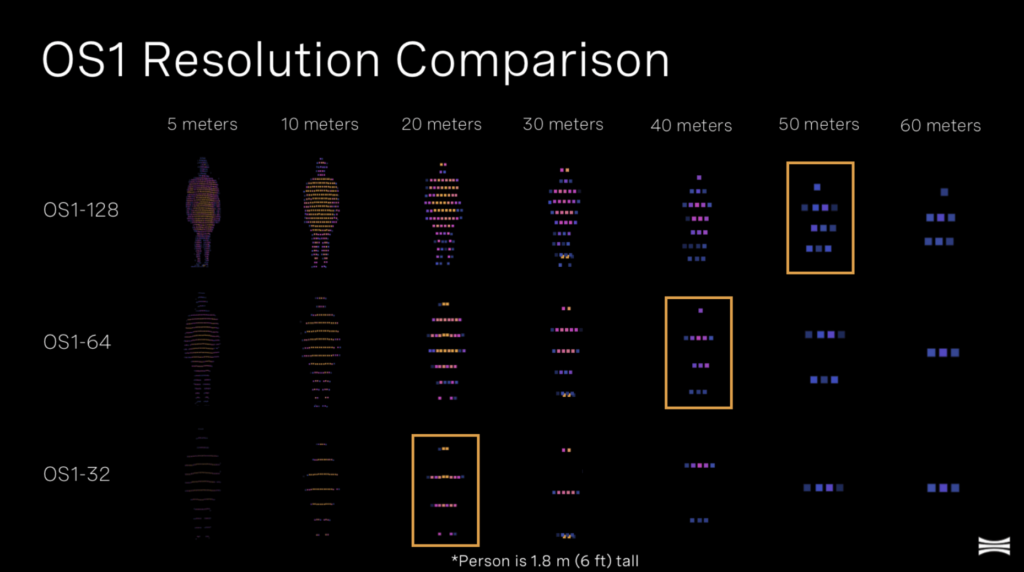 The higher the resolution, the greater a sensor's effective range. The OS1 lidar sensors each have a maximum range, but actual range is determined by their resolution (32, 64 or 128 channels). Photo credit: ©Ouster
In August 2021, the researchers deployed 46 measuring stations along a 2.4 km stretch of streets and intersections. They then also set up measuring stations in rural areas and on motorways. By creating a digital twin covering various areas of Aachen, they could capture objects with pinpoint accuracy, regardless of the terrain and weather conditions.
Phase 2: Development and testing of V2X simulations on the digital twin
Phase 2 of the project involved creation of a connected infrastructure that could safely integrate autonomous and connected vehicles into mixed traffic.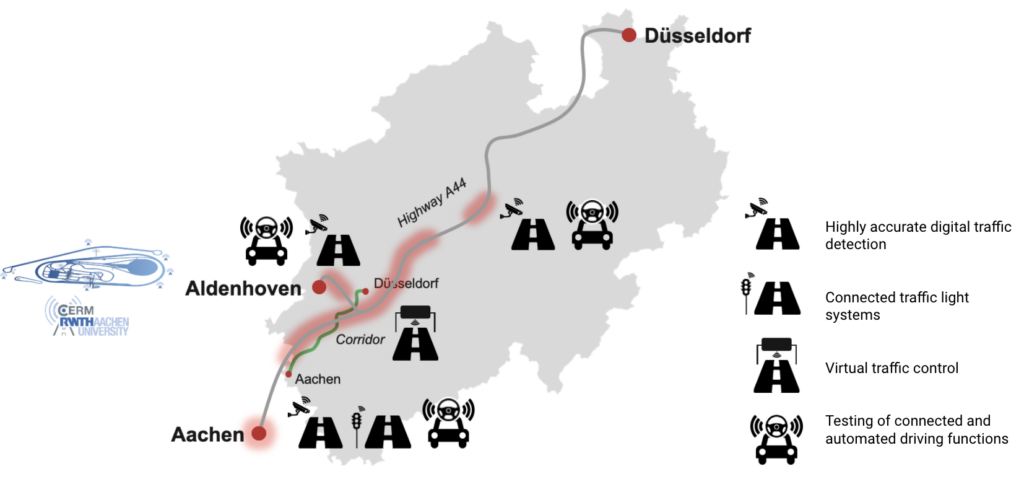 The aim of this project is to create a connected infrastructure. Photo credit: ©Ouster
The Aachen digital twin will serve three main purposes:
Real-time communication. Autonomous test vehicles equipped with on-board sensors can receive traffic information from the digital twin before they even "see" it. Anticipating traffic in this way gives vehicles more time to react and to adapt their driving style accordingly.
Simulation of connected and autonomous vehicles. As the digital twin generates a real and dynamic representation of its surroundings, researchers can test autonomous vehicles and analyse their impacts on other road users and the environment.
Long-term planning and analysis. Data collected by digital twins is stored in a central database. It can then serve to analyse road user behaviour and travel patterns, with the long-term aim of designing applications specifically for autonomous vehicles.
$280 billion in savings by 2030
While there is still much to explore about digital twins and their benefits for smart cities, one thing is certain: this technology will play a key role in the years to come.
According to ABI Research, the digital twin technology could help cities make collective savings of $280 billion by 2030 through more efficient city planning and proactive maintenance. By 2025, over 500 cities worldwide will be using digital twin technology (or equivalent).
If you'd like to know how the Ouster lidars can help you achieve your smart city goals, contact us for more information!
Interested?
Want to know how Ouster LiDARs can help you achieve your smart city goals?
Ouster LiDARs are stocked in Europe (delivery within 2 weeks)
Download our 43-pages white paper introducing the whole Ouster range