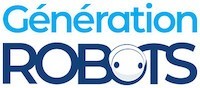 My Cart
0
item(s)
-
€0.00
There are no more items in your cart
Manufacturer of high resolution digital Lidars, Ouster is an American company founded in 2015.Essential in the development of autonomous driving, Ouster 3D Lidars can be used in many fields of application: drones, smart cities, robotics…
Compact, modular and highly resistant, they offer many advantages to roboticists wishing to optimize their navigation system:
Video camera-like image quality
A high level of water and dust resistance
Optimal operation in all weather conditions (snow, rain, fog, etc.) and at temperatures between -40°C and 64°C
An LX2 system that doubles the computing power and output data
3D Lidars with different ranges
Depending on what you want to do with it, the brand proposes 3 products with different fields of vision:
OS0: Lidar with ultra-wide vision
OS1 : Lidar with medium range vision
OS2 : Lidar with long range vision
3 models and 4 configurations
For each of these Lidars, you can choose between 3 types of vertical resolution: 32, 64 or 128 channels* and 4 possible configurations:
Uniform: balanced scanning radius below and above the Lidar
Gradient: allows the field of view to be segmented to suit the specific function required
Below Horizon: scanning beam oriented exclusively below the horizon line
Above Horizon: field of view oriented above the horizon line
*The 128-channel version is only available in a uniform configuration
Ouster's OS0 LiDAR is an effective aid to robotic navigation. It's small, light and comes in three versions, each with 4 laser beam options, for highly accurate path analysis in real time.
Delivery within 3 weeks
The OS1 LiDAR is another model from the Ouster OS series, offering a range of 120 metres, different configurations, high-definition output data, and an image reproduction almost as accurate as a video recording.
Delivery within 3 weeks
The OS2 digital LiDAR is your long-range option in the OS series designed by Ouster. It offers a vertical field of view, a range of 240 metres and high angular resolution.
Delivery within 3 weeks