The field of robotics is constantly evolving. So, too, is the associated technology. New products released in recent years include Bare Conductive paint. What makes it so remarkable is its conductivity.
Bare Conductive paint, for new inventions
Thanks to its conductive properties, Bare Conductive paint can be a great help to electronics engineers, artists, workshop facilitators and designers. You can use it to easily trace circuits on any type of surface – creating the inventions you've always dreamed of suddenly becomes child's play. Not only can you imaging new creations, but you can also repair electrical circuits with cold soldering!
A surprising but easy-to-use concept, this paint has its place in any classroom or extracurricular workshop (media library, robotics club, museum, etc.). It adapts just as well to a professional context as to the field of education. It can be used quite simply with open-source Arduino, or with an HID (human interface device) such as the Touch Board or Makey Makey to create prototypes or for other projects, regardless of their level of complexity.
Arduino compatible
Storage: 32 GB (microSD card)
Audio output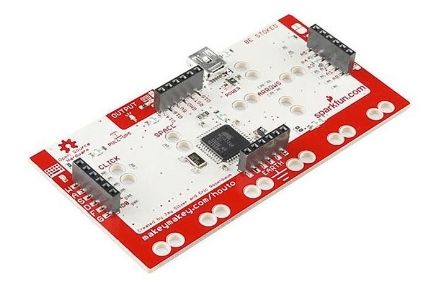 Arduino compatible
Integrated joystick
Active community + many resources
How to use Bare Conductive paint with the Makey Makey and Touch Board
Makey Makey is one of the simplest creation kits around. The pack includes the HID electronic board (the famous Makey Makey), which you can use to make your chosen conductive object interactive, for example a bucket of water, a metal surface, a piece of fruit… or conductive paint. Simply plug it into the USB port of the computer you use for programming.
The kit also comes with a set of alligator clips and connector wires – in short, it's suitable for both beginners and experts alike.
The Touch Board is very similar to the Makey Makey. It has 12 capacitive electrodes and I/O pins, allowing you to use an MP3 decoder. It also has sufficient memory space for storing multimedia files. The Touch Board is a kind of enhanced Makey Makey, and can also be programmed easily using the Arduino IDE (like Makey Makey)!
Both boards are compatible with Bare Conductive paint. And by combining a board with the paint, you can bring your inventions to life in different ways, without limiting yourself to cables and other connectors.
If you add a bit of conductive paint, you'll make much more effective use of your components!
Comes in different sizes: 10 ml | 50 ml | 1 l
Compatible with all types of substrate
Drying time: 5-15 minutes
Washable with soapy water