On 5 November 2012, I was invited by Sirris, in Belgium, to the Smart Factory Day to present a session on the arrival on the market of a new class of industrial robot, called the collaborative robot, and notably the Baxter robot by Rethink Robotics. You can download a commented PDF version of this presentation by clicking on the following image: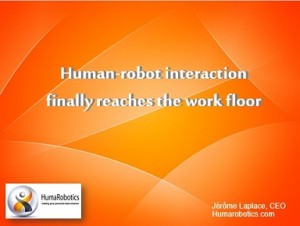 The event, attended by many professionals and manufacturers, offered the Baxter robot an opportunity to show what it was capable of. There can be no denying that Baxter attracted keen interest from professionals, who see Baxter, and collaborative robotics in general, as the next great source of productivity gains in companies.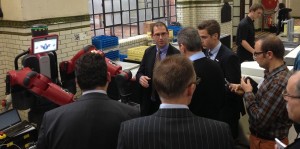 Collaborative robots can be used for automating tasks that until now have either not been automated or are rarely automated, mainly due to cost. Unlike traditional industrial robots, collaborative robots offer the advantage of being able to work alongside humans. Although slower and less powerful than industrial robots, collaborative robots are more flexible and less expensive, which is why they are placed at the end of production lines where lots of small tasks need to be carried out.