Génération Robots and HumaRobotics are present at Innorobo, the largest European service robotics tradeshow. This event is a chance to meet our coolest robots and even try Double from Double Robotics, an unseen robot in Europe.
This telepresence robot has been highlighted in many robotics blog and sites for its ease-of-use and also for its convenience. You can indeed attend remote events, like my colleague Manon Picard attending Innorobo 2014 being 550 kms away from it. This robot has been so successful, it attracted coverage of the Public French channel 1PM news programme.
http://youtu.be/3jewR9viAvo
Our current star robot, Rethink Robotics Baxter has also been showcased during Innorobo, as the main cobot (collaborative robot) currently in use in corporate and research labs. Visit our booth in Innorobo and handle its arms, you will see how you can teach it simple gestures that it can reproduce.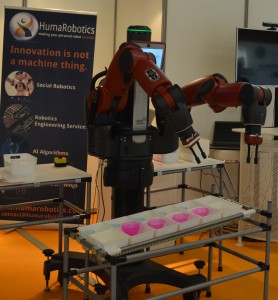 Large robots have all eyes on them, however smaller robots also deserve to be in the spotlight. Especially when they now how to play card games! Our programmable humanoid NAO Next Gen robot latest application allow him to play Poker with an opponent. This application is worth seeing, not only for his amazing ability to re enact a poker game but also for his cracking jokes. Don't worry he's not a sore loser!
Finally mobile robot Thymio 2 embody our main mission: sharing our passion for programming & robotics. This is a mobile robot developed in collaboration by the Swiss Federal Institute of Technology in Lausanne (EPFL) and the Cantonal Art School of Lausanne (écal). Their aim is to provide an educational mobile robot at a low price. This robot has all it takes to get started in robotics as you can see in the video below:

In addition to all these robots, our staff is available until Thursday evening to advise you and answer your questions, so come and meet them!