The ultra-compact NVIDIA Jetson systems have long been ranked among the world's best-performing autonomous machines.
Both extremely powerful and ultra-energy efficient, they're your ideal choice for embedded robotics and edge computing. And although it's hard to believe there was room for improvement, NVIDIA has risen to the challenge once again to deliver a new generation of modules that perform up to 8x better than their predecessors: NVIDIA Jetson Orin.
What's new in NVIDIA Jetson Orin?
The NVIDIA Jetson Orin modules offer the perfect balance between power, performance and low consumption for developing tomorrow's products using autonomous machines. They deliver up to 275 TOPS in power and perform up to 8 times better than Jetson Xavier. The NVIDIA Jetson AGX Orin systems satisfy the kind of performance and energy efficiency levels needed for autonomous machines in edge computing.
With the Jetson AGX Orin development kit, deploying advanced robotics applications becomes even easier and faster, in fields such as smart city development, distribution, agriculture, logistics, industrial production and healthcare.
What is edge computing?
Edge computing allows a device that generates data to process it directly or using a local computer. So there's no need to send data to a remote centre for analysis. Heavy data processing therefore becomes much simpler, for video or audio content for example.
Being able to process data in real time speeds up processes and all but eliminates latency, which is dangerous in robotics, in particular in autonomous and connected vehicles.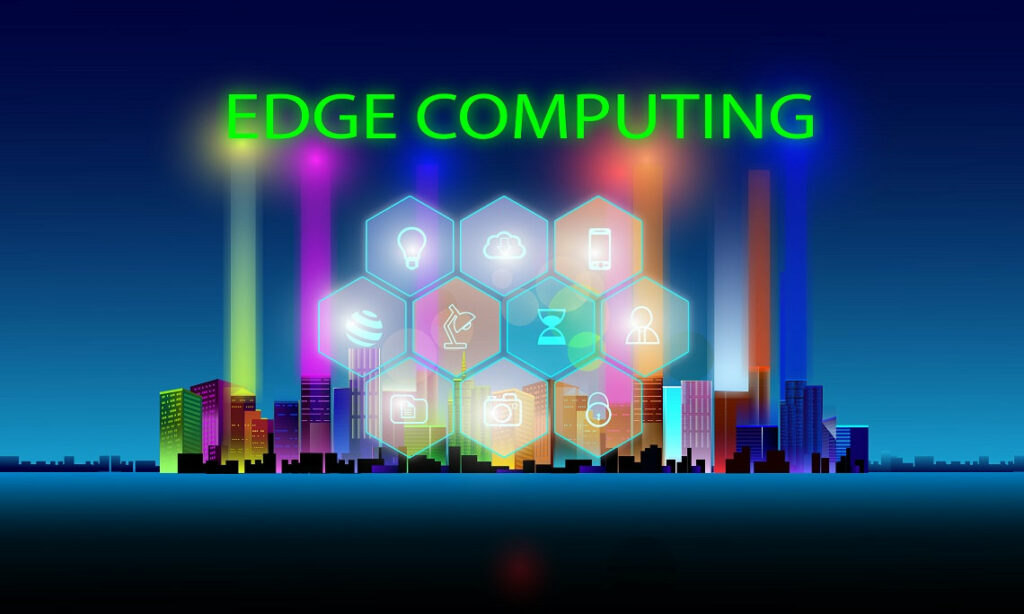 Key differences between Orin and Xavier
The Jetson AGX Orin modules deliver an AI performance that can reach 275 TOPS with up to 64 GB of memory, compared to 30 TOPS with up to 32 GB of memory for Jetson Xavier. Power consumption of the Jetson Orin modules has also been optimised like never before, offering a maximum consumption of 60 W compared to a maximum of 40 W with Jetson Xavier.
This makes it the world's most powerful AI computer for autonomous machines, without compromising on low, ultra-optimised consumption.
It performs up to 8 times better than the Jetson Xavier range for simultaneously handling a larger number of pipelines. Interface support is also optimised with multiple sensors, better satisfying recent trends in the field of next-generation embedded robotics.
Networking, which in Jetson Xavier was possible only with conventional Ethernet, can now be achieved with Gigabit Ethernet in Jetson Orin. This makes data transmission much faster than before.
Jetson AGX Orin Developer Kit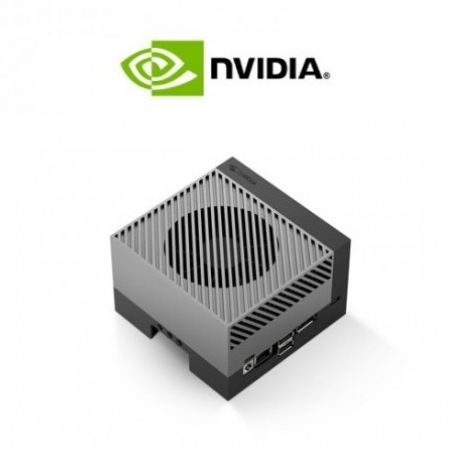 8x more powerful than the AGX Xavier
Development of Edge Computing applications
Eco-design (between 15 and 60 W)
NVIDIA Jetson Xavier vs. NVIDIA Jetson Orin Comparison Chart
 
Jetson Xavier NX 16 GB
Jetson Xavier NX
Jetson AGX Xavier 64 GB
Jetson AGX Xavier
Jetson Orin NX 8 GB
Jetson Orin NX 16 GB
Jetson Orin AGX 32 GB
Jetson Orin AGX 64 GB
AI performance
21 TOPS
21 TOPS
32 TOPS
32 TOPS
70 TOPS
100 TOPS
200 TOPS
275 TOPS
GPU
384-core NVIDIA Volta™ GPU (with 48 Tensor cores)
384-core NVIDIA Volta™ GPU (with 48 Tensor cores)
512-core NVIDIA Volta™ GPU (with 64 Tensor cores)
512-core NVIDIA Volta™ GPU (with 64 Tensor cores)
1024-core NVIDIA Ampere GPU (with 32 Tensor cores)
1024-core NVIDIA Ampere GPU (with 32 Tensor cores)
1792-core NVIDIA Ampere GPU (with 56 Tensor cores)
2048-core NVIDIA Ampere GPU (with 64 Tensor cores)
CPU
6-core NVIDIA Carmel ARM® v8.2 64-bit CPU 6 MB L2 + 4 MB L3
6-core NVIDIA Carmel ARM® v8.2 64-bit CPU 6 MB L2 + 4 MB L3
8-core NVIDIA Carmel ARM® v8.2 64-bit CPU 8 MB L2 + 4 MB L3
8-core NVIDIA Carmel ARM® v8.2 64-bit CPU 8 MB L2 + 4 MB L3
NVIDIA 8-core Arm® Cortex®-A78AE v8.2 64-bit CPU 1.5 MB L2 + 4 MB L3
6-core Arm® Cortex®-A78AE v8.2 64-bit CPU 2 MB L2 + 4 MB L3
8-core Arm® Cortex®-A78AE v8.2 64-bit CPU 2 MB L2 + 4 MB L3
12-core Arm® Cortex®-A78AE v8.2 64-bit CPU 3 MB L2 + 6 MB L3
DL accelerator
2x NVDLA
2x NVDLA
2x NVDLA
2x NVDLA
1x NVDLA v2
2x NVDLA v2
2x NVDLA v2
2x NVDLA v2
Vision accelerator
2x PVA
2x PVA
2x PVA
2x PVA
1x PVA v2
1x PVA v2
1x PVA v2
1x PVA v2
Memory
16 GB 128-bit LPDDR4x 59.7 GB/s
8 GB 128-bit LPDDR4x 59.7 GB/s
64 GB 256-bit LPDDR4x 136.5 GB/s
32 GB 256-bit LPDDR4x 136.5 GB/s
8 GB 128-bit LPDDR5 102.4 GB/s
16 GB 128-bit LPDDR5 102.4 GB/s
32 GB 256-bit LPDDR5 204.8 GB/s
64 GB 256-bit LPDDR5 204.8 GB/s
Storage
16 GB eMMC 5.1
16 GB eMMC 5.1
32 GB eMMC 5.1
32 GB eMMC 5.1
(Supports external NVMe)
(Supports external NVMe)
64 GB eMMC 5.1
64 GB eMMC 5.1
Camera
Up to 6 cameras
(24 via virtual channels)
14 lanes MIPI CSI-2
D-PHY 1.2 (up to 30 Gbps)
Up to 6 cameras
(24 via virtual channels)
14 lanes MIPI CSI-2
D-PHY 1.2 (up to 30 Gbps)
Up to 6 cameras
(36 via virtual channels)
16 lanes MIPI CSI-2 | 8 lanes SLVS-EC
D-PHY 1.2 (up to 40 Gbps)
Up to 6 cameras
(36 via virtual channels)
16 lanes MIPI CSI-2 | 8 lanes SLVS-EC
D-PHY 1.2 (up to 40 Gbps)
Up to 4 cameras (8 via virtual channels*)
8 lanes MIPI CSI-2
D-PHY 1.2 (up to 20 Gbps)
Up to 4 cameras (8 via virtual channels*)
8 lanes MIPI CSI-2
D-PHY 1.2 (up to 20 Gbps)
Up to 6 cameras (16 via virtual channels)
16 lanes MIPI CSI-2
D-PHY 1.2 (up to 40 Gbps) | C-PHY 1.1 (up to 164 Gbps)
Up to 6 cameras (16 via virtual channels)
16 lanes MIPI CSI-2
D-PHY 1.2 (up to 40 Gbps) | C-PHY 1.1 (up to 164 Gbps)
Video encoder
2x 4K @ 60 (H.265)
10x 1080p @ 60 (H.265)
22x 1080p @ 30 (H.265)
2x 4K @ 60 (H.265)
10x 1080p @ 60 (H.265)
22x 1080p @ 30 (H.265)
4x 4K @ 60 (H.265)
16x 1080p @ 60 (H.265)
32x 1080p @ 30 (H.265)
4x 4K @ 60 (H.265)
16x 1080p @ 60 (H.265)
32x 1080p @ 30 (H.265)
1x 4K @ 60 (H.265)
3x 4K @ 30 (H.265)
6x 1080p @ 60 (H.265)
12x 1080p @ 30 (H.265)
1x 4K @ 60 (H.265)
3x 4K @ 30 (H.265)
6x 1080p @ 60 (H.265)
12x 1080p @ 30 (H.265)
1x 4K @ 60 (H.265)
3x 4K @ 30 (H.265)
6x 1080p @ 60 (H.265)
12x 1080p @ 30 (H.265)
2x 4K @ 60 (H.265)
4x 4K @ 30 (H.265)
8x 1080p @ 60 (H.265)
16x 1080p @ 30 (H.265)
Video decoder
2x 8K @ 30 (H.265)
6x 4K @ 60 (H.265)
22x 1080p @ 60 (H.265)
44x 1080p @ 30 (H.265)
2x 8K @ 30 (H.265)
6x 4K @ 60 (H.265)
22x 1080p @ 60 (H.265)
44x 1080p @ 30 (H.265)
2x 8K @ 30 (H.265)
6x 4K @ 60 (H.265)
26x 1080p @ 60 (H.265)
52x 1080p @ 30 (H.265)
2x 8K @ 30 (H.265)
6x 4K @ 60 (H.265)
26x 1080p @ 60 (H.265)
52x 1080p @ 30 (H.265)
1x 8K @ 30 (H.265)
2x 4K @ 60 (H.265)
4x 4K @ 30 (H.265)
9x 1080p @ 60 (H.265)
18x 1080p @ 30 (H.265)
1x 8K @ 30 (H.265)
2x 4K @ 60 (H.265)
4x 4K @ 30 (H.265)
9x 1080p @ 60 (H.265)
18x 1080p @ 30 (H.265)
1x 8K @ 30 (H.265)
2x 4K @ 60 (H.265)
4x 4K @ 30 (H.265)
9x 1080p @ 60 (H.265)
18x 1080p @ 30 (H.265)
1x 8K @ 30 (H.265)
3x 4K @ 60 (H.265)
7x 4K @ 30 (H.265)
11x 1080p @ 60 (H.265)
22x 1080p @ 30 (H.265)
PCIe
1 x1 (PCIe Gen3) + 1 x4
(PCIe Gen4)
1 x1 (PCIe Gen3) + 1 x4
(PCIe Gen4)
1 x8 + 1 x4 + 1 x2 + 2 x1
(PCIe Gen4, Root Port and Endpoint)
1 x8 + 1 x4 + 1 x2 + 2 x1
(PCIe Gen4, Root Port and Endpoint)
1 x4 + 3 x1
(PCIe Gen4, Root Port and Endpoint)
1 x4 + 3 x1
(PCIe Gen4, Root Port and Endpoint)
Up to 2 x8 + 2 x4 + 2 x1
(PCIe Gen4, Root Port and Endpoint)
Up to 2 x8 + 2 x4 + 2 x1
(PCIe Gen4, Root Port and Endpoint)
Networking
10/100/1000 BASE-T Ethernet
10/100/1000 BASE-T Ethernet
10/100/1000 BASE-T Ethernet
10/100/1000 BASE-T Ethernet
1x GbE
1x GbE
1x GbE
4x 10GbE
1x GbE
4x 10GbE
Display
2 multi-mode DP 1.4/eDP 1.4/HDMI 2.0
No DSI support
2 multi-mode DP 1.4/eDP 1.4/HDMI 2.0
No DSI support
3x multi-mode DP 1.4/eDP 1.4/HDMI 2.0
No DSI support
3x multi-mode DP 1.4/eDP 1.4/HDMI 2.0
No DSI support
1x 8K @ 60 multi-mode DP 1.4a (+MST)/eDP 1.4a/HDMI 2.1
1x 8K @ 60 multi-mode DP 1.4a (+MST)/eDP 1.4a/HDMI 2.1
1x 8K @ 60 multi-mode DP 1.4a (+MST)/eDP 1.4a/HDMI 2.1
1x 8K @ 60 multi-mode DP 1.4a (+MST)/eDP 1.4a/HDMI 2.1
Consumption
10 W | 15 W | 20 W
10 W | 15 W | 20 W
10 W | 15 W | 30 W
10 W | 15 W | 30 W
10 W | 15 W | 20 W
10 W | 15 W | 25 W
15 W | 20 W | 50 W
15 W | 30 W | 60 W
Mechanical specifications
69.6 mm x 45 mm
260-pin SO-DIMM connector
69.6 mm x 45 mm
260-pin SO-DIMM connector
100 mm x 87 mm
699-pin connector
Integrated thermal transfer plate
100 mm x 87 mm
699-pin connector
Integrated thermal transfer plate
69.6 mm x 45 mm
260-pin SO-DIMM connector
69.6 mm x 45 mm
260-pin SO-DIMM connector
100 mm x 87 mm
699-pin Molex Mirror Mezz connector
Integrated thermal transfer plate
100 mm x 87 mm
699-pin Molex Mirror Mezz connector
Integrated thermal transfer plate
Contact us to discuss your project or to request a quote