Rethink Robotics doesn't sit on its laurels. Less than 6 months after the Intera 3.1 release , Sawyer robot's manufacturer is announcing that Intera v3.2 is available for Baxter robot .
As you know Baxter collaborative robots are available in two versions: Baxter research, a prototype of the collaborative robot for research purposes, available at Génération Robots, and Baxter Manufacturing version.
If you already own the Manufacturing version of Baxter robot or if you're interested in this version, be aware that this software update will allow you to run Baxter Manufacturing faster and in an efficient manner. Rethink Robotics software engineers considered customers' feedback for this update in order to meet their expectations of what collaborative robotics should look like.
Below you will find the key highlights of this latest release:
Baxter can now follow a trajectory path without carrying out a task with specific start and finish points e.g. a pick and place task. This will be handy for activities not requiring gripping or handling materials
Arm coordination is now easier with new internal signals enabling Baxter robot to send a signal from one arm to the other
You can configure signals in a simple way thanks to a revamped user interface
End effectors configuration has been simplified since Baxter collaborative robot remembers the last configuration. You can then use your 3D printer in order to create « customised » grippers. You can even use Baxter cobot without grippers.
Our robotics engineer Wagdi Benyaala, who recently collaborated on a head mount featuring a motorised Kinect camera for Baxter robots , reviewed Intera 3.2 release and shared his feedback about the latest features:
"Create tasks without a pick and place" and "More end effector options" features
You can carry out a task without teaching "Pick & place" to Baxter robots. It is now possible to carry out "holds" – bringing Baxter to a still motion – and to ask Baxter to follow trajectory paths. A typical use case would be for example visual inspection activities, not requiring any pick and place tasks.
"Configuring end effectors made easy"

Baxter now remembers last Rethink Robotics branded grippers configuration (electric and vacuum grippers)

"No movement at start-up"

The first thing you will notice with this feature: When you start Baxter robot, it doesn't return to its initial position. It helps to prevent collisions.

"Define the number of attempts"
It is now possible to change directly the number of picks you want Baxter to perform on the robot interface, unlike Intera 3.1 where you could only modify it from the web interface. In addition, a check box has been added to directly stop the action, if the object is lost/dropped during the robot trajectory path.
"Apply changes to paths in both directions"
In this version, it is possible to change the trajectory path with a single button, moreover it is possible for Baxter to follow the same trajectory upwards and backwards.
"Clear all actions from an arm"
It is possible to clear all actions from an arm, which is very handy when you want to modify actions from a single arm and not another.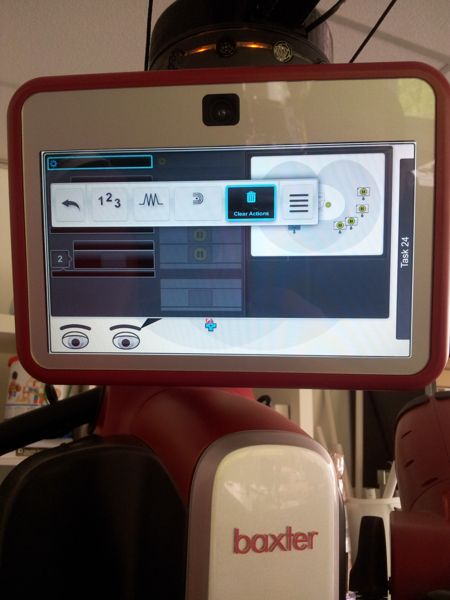 "New confusion checklist"
When an issue appears, a new interface displays on screen the possible causes for this issue.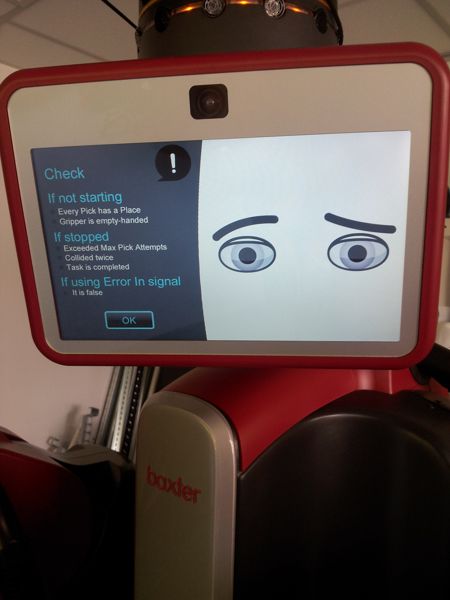 "Hold and internal signals"
Possibly one of the greatest feature of this release; Internal signals of the robot can be used to coordinate Baxter arms. Baxter robot can put on hold one of its arms, and wait for a signal coming from the other arm that will release it. Among other internal signals, there's a possibility to launch subtasks.
You can find out more about internal signals in the following video:
"Delete all tasks from the gallery"
It is now possible to delete all recorded tasks on Baxter.
Find out more about this release on Rethink Robotics wiki .
Baxter robot and accessories available on Generation Robots' site: