With a steady growth in robotics and automation, the demand for qualified professionals continues to increase. To address this demand, Génération Robots is proud to announce a new partnership with The Construct, a world-renowned learning platform dedicated to Robot Operating System (ROS) and robotics programming. You'll find a broad selection of online courses, as well as training and customized lessons.
What is ROS and why is it important?
ROS, or Robot Operating System, is an open-source operating system designed specifically for robotics. It provides developers with a comprehensive set of tools and libraries to simplify the development of softwares or applications for robots. ROS is widely used in the robotics industry to create autonomous and intelligent applications, from industrial robots to drones, and even autonomous vehicles.
Why is The Construct a must-have for robotics and ROS enthusiasts?
The Construct has been a leader in ROS and robotics training since 2015. Their platform offers a a variety of high-quality online courses, designed for beginners and experts alike, covering all aspects of ROS and robotics. Here are some of the reasons why The Construct stands out:
Flexibility
No need to travel or take expensive courses, you can complete The Construct courses wherever you are and at your own pace. This means you can easily fit them into a busy schedule.
The online learning platform is open 24/7.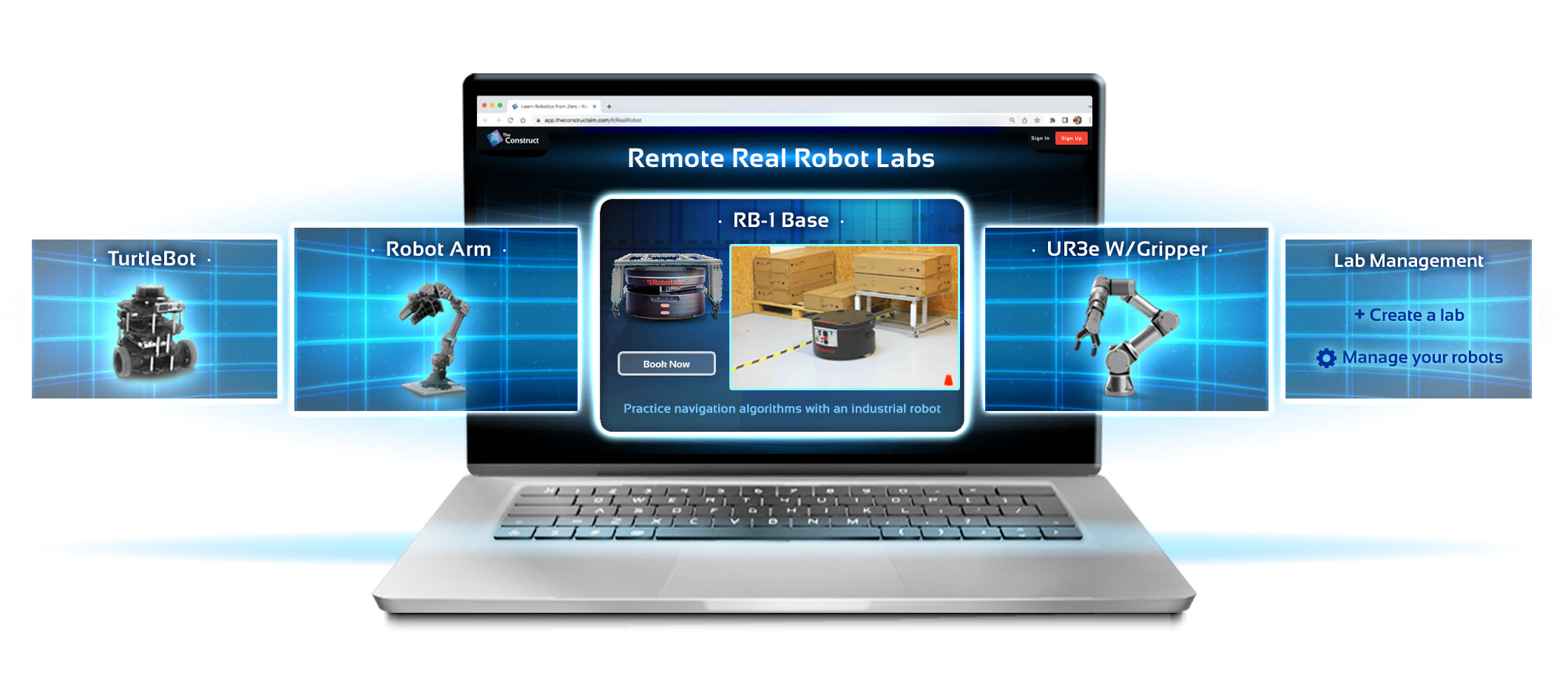 Learning by doing
The Construct courses are practice-oriented. You'll learn by actually creating robotics projects, giving you concrete, real-world skills.
Teaching know-how
The Construct teachers are proven experts in the field of robotics and ROS. They are dedicated to helping you succeed, and answering all your questions. A community can discuss on The Construct forum.
Certificate of Achievement
At the end of the course, you'll receive a globally recognized certificate of achievement, attesting to your skills and expertise in robotics.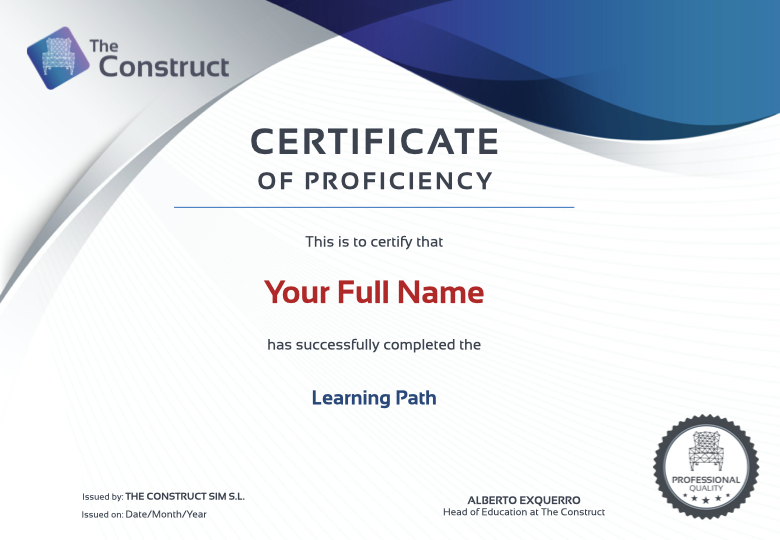 What our partnership with The Constructor means for our customers
As an official partner of The Construct, we're delighted to grant you access to their online courses from our website. This means you can take advantage of this unique opportunity to gain essential robotics and ROS skills, whether to advance in your current career or to explore new professional opportunities.
Whether you're a robotics student or a teacher, an industrial automation professional or an engineer working in an innovation or R&D department, you can learn how to develop autonomous robots, program drones or even design computer vision systems for robotics.
How do I get started?
1) Online courses
The main topics covered are
ROS2
Robotics theory
ROS basics
Robot navigation
Robot perception and manipulation
Robot creation
Artificial intelligence for robotics
Robot courses: TurtleBot 3, Jackal, etc.
On the Génération Robots website, you'll find the fundamental courses for ROS and robotics:
If you're interested in one of these courses, you can buy it online, from the product page. Simply add the course to your cart, and purchase it like a regular product. Within 24h (working days), you'll receive a link to access the lesson you just bought, as well as login details (valid for 1 year). If you are interested in a course that is not on our website, please contact us directly at contact[at]generationrobots.com.
Interested in more than one lesson? Consider buying an annual license, which gives you access to the entire lessons catalog, to all the training tracks, and more.
Good to know:
Courses are available immediately
Your access is valid for one year
Licenses are individual; you cannot connect to the lessons from different computers at the same time
Courses are exclusively in English
2) Customized courses
The Construct is able to create tailor-made lessons for many brands of autonomous robots. Each lesson will feature the following:
Full customization to match your level and objectives
World-class expertise
Diversified content tailored to your interests
24/7 access to our online learning platform
Practical work based on real projects
Globally recognized certificate of achievement
Conclusion
Pick the course that best suits your interests and needs, and start learning today. The future of robotics is in your hands, and our partnership with The Construct gives you the tools to succeed. Génération Robots, a brand of the NGX Robotics group, is recruiting robotics engineers. Take a look at our vacancies and join us on this exciting adventure!