A robot designed for education and research
The ROS Shadow Runner RR100 outdoor and indoor mobile platform is designed for research and higher education. It is highly customisable.
The Shadow Runner RR100 outdoor and indoor mobile platform is designed for use in research and higher education, as well as by R&D centres of companies wishing to invest in robotics research and innovation.
It was created by the members of our Génération Robots engineering team, who have solid experience of robotics engineering, consulting and robotics integration. 
The Shadow Runner RR100 mobile robot is the education version of the Shadow Runner GR100 platform, a robot designed also by Génération Robots, created for industrial site surveillance and maintenance under the Running Brains brand.
Contact our RR100 expert to talk about your project
The standard version of the RR100 robot is equipped with 4 sensors:
Mounting rails have been added allowing users to also use their own sensors. The RR100 platform is ROS compatible, for easy integration of external devices.
It comes with external USB and Ethernet waterproof connectors, in addition to USB, Ethernet, 5V, 12V and 24V connections inside the robot.
A ROS compatible mobile platform
Easy start-up
This mobile robot is designed to be easy for students to use. And because it's also intended for research, the RR100 is fully ROS compatible. This compatibility applies to all the robot's components.
The Shadow Runner RR100 mobile platform comes with its own PC, pre-installed with:
Ubuntu 18
ROS Melodic
ROS drivers
These are launched automatically at start-up.
The robot also comes with a USB flash drive on which you'll find the library of ROS drivers needed to install the 3 above-mentioned features, as well as a user guide for installing and configuring the drivers.
Your own technical support
Our engineers, who have developed solid ROS expertise over the course of their career, are on hand to help you choose and install your ROS drivers:
Robot localisation
Autonomous navigation
Mapping
Instrumentation (addition of more actuators: robotic arm, gripper, screen, etc.)
An all-terrain autonomous robot
The RR100 is extremely robust, designed to be outdoors in all weathers (IP54). It moves with a decent velocity of 2.5 m/s and weighs 90 kg. It can climb 20° slopes and overcome obstacles up to 13 cm high.
We've equipped it with agricultural wheels capable of tackling all types of difficult terrain (mud, bumps and holes, slopes, etc.). If requested, we can also provide smooth wheels for urban environments and indoor use.
The robot is built on an off-road, double-wishbone, long-travel, 4-wheel drive chassis with double Ackerman steering.
Despite its size, the RR100 mobile robot can move easily around in confined spaces due to the double Ackerman steering, which gives a turning radius of 50 cm.
And its navigational autonomy is further increased by a strong battery life (5 hours) coupled with particularly quick charging (1 hour 20).
RR100 EDU ROS-Compatible Research Mobile Robot (UGV)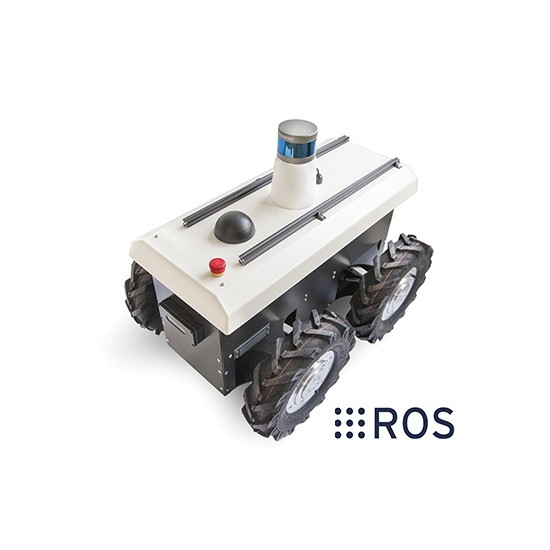 Our GR engineers are qualified to help you with your own mobile robots projects – Contact our experts