I'm buying for me
---
Looking for a gift?
---
I'm interested in DIY projects, electronics and programming, but I'm not sure where to begin
I've been surfing sites like Instructables and Makezine for a few weeks now. I'd really like to learn how to create some nice little inventions, but I don't know where to start! I know nothing about electronics or programming, but I'm keen to learn!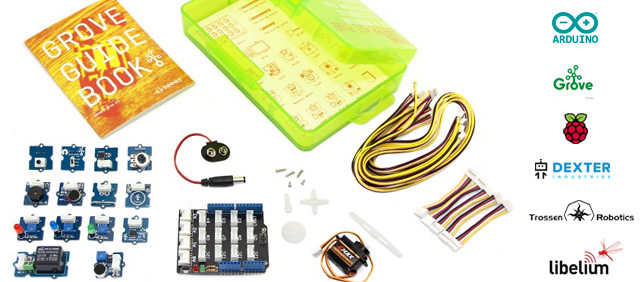 The best way to learn electronics is to get yourself a kit. They're affordable and teach the basics step by step. You'll be working on your first projects in no time! There are several different systems:
Here you'll find a small selection of projects using Grove modules
What's the difference between Arduino and Raspberry Pi?
Arduino is a programmable board to which you connect electronics components. It's ideal for controlling hardware, so for home automation projects and the Internet of Things. For example an automatic watering system for plants.
The Raspberry Pi is an actual computer to which you can connect a screen, a network cable and peripherals. It can run several programs at once. For example an audio and video entertainment centre connected to your TV with a graphical interface.
---
I've already completed a few simple DIY projects and want to try my hand at a few fun projects
What am I interested in? The Internet of Things and projects using Raspberry Pi and Arduino. I like the idea of plug-and-play modules and accessories, because they're quick and easy to use!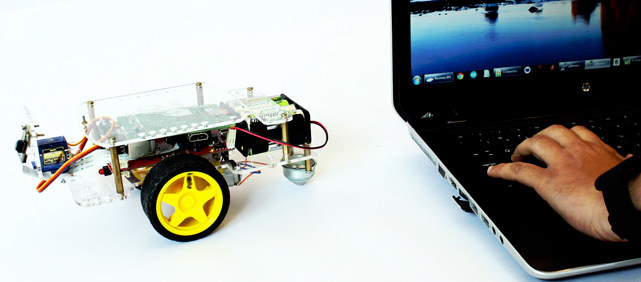 Are you familiar with the Grove range? It includes lots of sensors, including motion, temperature and touch sensors, displays and LEDs, which require no soldering and are relatively inexpensive. Equip yourself with a compatible shield, and you'll be able to use them with Arduino, Raspberry Pi, micro:bit and the Linkit ONE board.
Grove electronics kits:
Browse our selection of Grove kits for Arduino, Raspberry Pi, the IoT or micro:bit.
Here you'll find a small selection of projects using Grove modules
Raspberry Pi and Arduino robotics kits:
And, of course, our site offers a wide range of different parts, ranging from microcontrollers to robotics sensors , including high-performance servos and prototyping hardware.
---
I'm not that interested in building a robot or inventing something, what I enjoy most is the software
I mostly develop applications, in particular for smartphones, tablets and the Internet of Things.

At our site you'll find some plug-and-play kits, which allow developers to focus on creating applications without worrying about assembling hardware.
Our favourites include:
---
I have a good knowledge of computer programming, now I want to move on to robotics.
I've been programming for a while already. Until now I've done quite well creating programs and applications, but I'd like to use my skills to develop robot behaviour.
So I'm looking for an easy-to-assemble robot capable of doing interesting things.
---
I know all there is to know about electronics and programming, I've completed some quite complex projects!
If you are experienced enough to build and program advanced robots or IA applications, you will be interested in our selection of robot parts or customizable robotic platforms (mobile bases, robot arms). Basically, you will find everything you need to build a robotic system from scratch.
If you're looking for a new robotics project, these robots are ideal for more advanced users:
---
I'm looking for a gift for a child that will serve as a fun introduction to all these new technologies
We have a whole range of ready-to-use kits and robots for the very young that will make budding engineers of them!
How old is the child?
I'm looking for a gift for a tiny tot, aged between 3 and 6

---
I'm looking for a gift for an older child, aged between 7 and 11

---
I'm looking for a slightly original gift for a teenager interested in science and new technologies, and I don't want to get it wrong!

---
I want to offer a slightly unusual gift to someone with a curious and scientific mind
Christmas is getting closer, and you're wondering what gift to buy for those you love? Or maybe you're looking for an original birthday present?

Why not consider a robotics or electronics kit? These packs contain everything you need to create your very own little inventions and robots, a source of wonder among young and old!
I'm looking for something: