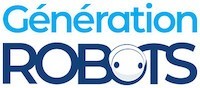 My Cart
0
item(s)
-
€0.00
There are no more items in your cart
Programmable drones are drones equipped with sensors, cameras and processors that can be programmed to perform specific tasks. They can be used in a number of fields, including research, development and higher education.
Programmable drones: what applications?
Programmable drones allow researchers, engineers and students to collect data, develop products and learn important concepts related to robotics and engineering. Examples of applications include:
Collecting data in environments that are difficult to access or dangerous for humans:
Mapping inaccessible areas
Monitoring of wild animals
Measuring air and water pollution
Detecting changes in the environment
Prototyping products that require aerial movement:
Testing prototype delivery or surveillance drones
Testing new control algorithms
Teaching programming, robotics and engineering concepts:
Learning to program drones
Designing and building drones from scratch
Understanding the principles of drone flight and navigation
Which programmable drone to choose?
Crazyflie 2.1: an open source programmable mini-drone
Designed for research and development in robotics and embedded computing, the Crazyflie 2.1 drone is equipped with an ARM Cortex-M4 processor and a full set of sensors: accelerometer, gyroscope, magnetometer and pressure sensor.
Small in size (92 x 92 x 29 mm), it can be powered by a 240 mAh Li-Po battery and fly for about 7 minutes. It is compatible with Python, C, C++, ROS, Matlab, etc.
Versatile and customisable, it can be used for a variety of applications: aerial mapping, environmental monitoring, research on autonomous drones and robotics, etc
Drone Tello Edu: a programmable drone for beginners
If you want to explore the basic functionality of drone programming, the DJI Tello is ideal. It is equipped with an Intel Movidis Myriad 2 VPU processor, a stabilisation system and a rechargeable 1100 mAh battery that allows it to fly for up to 13 minutes.
It can be controlled via a mobile application and can be used for various applications: aerial photography, 3D mapping, surveillance, inspection etc.