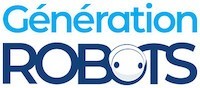 My Cart
0
item(s)
-
€0.00
There are no more items in your cart
Lego Mindstorms NXT color sensor
Enhance your Lego Mindstorms NXT Brick thanks to this NXT color sensor.
Your Mindstorms NXT robot will now distinguish lights and colours.
You only need a Lego Mindstorms NXT brick to create simple features thanks to the NXT colour sensor.
The colour sensor will help you in your Lego Mindstorms NXT robot project to distinguish between black and white, but also between 6 different colours. Its new technology allows it to detect reflected and ambiant light. The sensor can also emit 3 different colours of light.
NOTE: This colour sensor comes with any connection cable or Lego Mindstorms NXT brick, so don't forget to purchase one if you haven't any!
The video below shows an example of how a NXT colour sensor connected to a Lego Mindstorms NXT Intelligent Brick 2.0 can replace a lightsensor array for line following purpose.
Remember you will need connection cables for NXT Mindstorms in order to use this sensor.
Il vous suffit d'une brique intelligente Lego Mindstorms NXT, pour créer des applications simples grâce au capteur couleur NXT.
Le capteur de couleur vous aidera dans votre projet de robot Lego Mindstorms NXT à faire la différence entre le noir et le blanc, mais aussi parmi 6 différentes couleurs. Sa nouvelle technologie l'aide à à détecter la lumière réfléchie et ambiante. Le capteur émet également 3 couleurs de lumière.
Customers who viewed this item also viewed