For a few years now, the world of quadruped robots has been growing steadily. Two brands in particular have managed to make a name for themselves: Unitree Robotics and Boston Dynamics, with its Spot robot. Génération Robots is proud to be the official European distributor of both these leading mobile robotics brands. In this article we give a comprehensive overview of their robot dogs, each with their own specific advantages and features, for use in a wide variety of contexts.
SPOT, by Boston Dynamics: the most advanced robot dog
You've probably already heard of Spot, a quadruped robot that looks like a dog, easily recognisable by its yellow colour. Spot was imagined by Boston Dynamics, an American company that grew out of MIT best known for designing the Atlas robots, the humanoid Parkour champions!
Spot was revealed to the general public in 2016 and became commercially available from 2019.
Infinite potential
Robust and fully configurable, Spot stands out for its ability to move around in difficult environments, and above all for its wide range of applications:
Industrial sites: this is where the quadruped is most commonly found, it can automate inspection tasks and collect data reliably, even in hostile environments
Construction: it can monitor and track work progress on site by creating a digital representation of the construction
University and research: human/robot interaction, artificial intelligence, industrial research
And in the petroleum industry, energy sector, for mining, exploration, etc.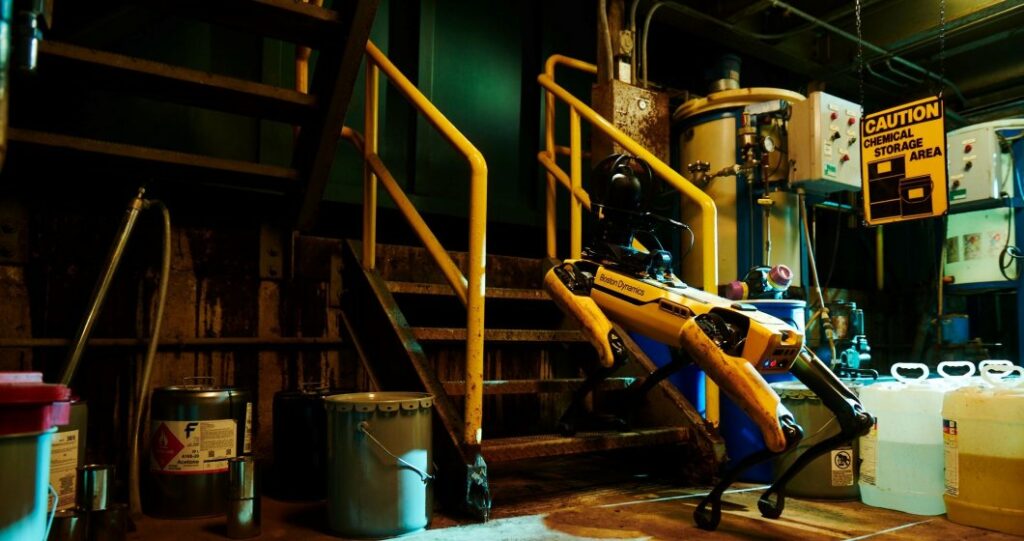 In March 2022, SNCF called on Génération Robots to see if the Spot robot could effectively complete inspection missions on double-decker Transilien trains. We wrote a blog post about it.
Impressive features
You'll find all the main features of the Spot robot below: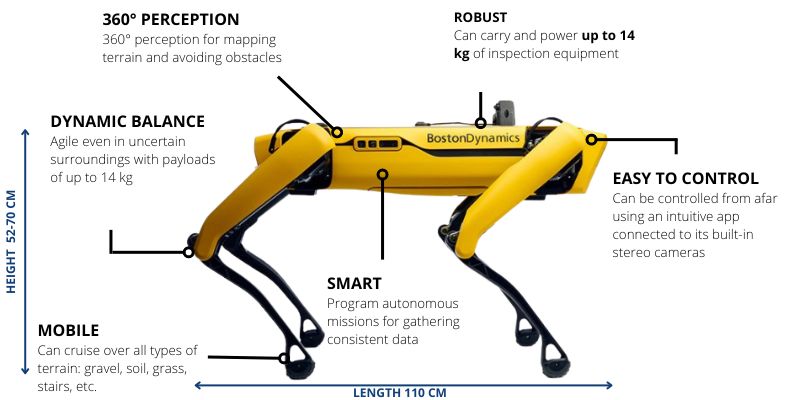 Upgradeable with accessories and payloads
You can equip Spot with a wide range of accessories for carrying out even more missions. These add-ons (payloads) will increase or improve its functionalities.
Payloads designed for Spot robot optimisation include:
Unitree Robotics: powerful and affordable robot dogs
Unitree Robotics is a Chinese manufacturer that specialises in developing, producing and sales of high-performance quadruped robots. The brand offers different types of robot dog, more affordable than the Boston Dynamics Spot robot and therefore more accessible for use in research and education:
Go1: fast and agile
The Go1 robot dog is compact, rapid and combines several high-performance features:
Travels at speeds of up to 17 km/h (making it the fastest!)
Weighs just 12 kg
Can carry small loads: 5 kg on average, and up to 10 kg
Benefits from the unique Side-Follow tracking system and Super Sensory technology (stereoscopic sensor and camera system) for optimal navigation
There are three versions of the Go1 robot:
Go1 Air, which is the standard, entry-level version in the Go1 series. It will easily follow its operator, avoid obstacles and carry small loads. It works with a processor and has a Super Sensory System.
Go1 Pro is a more sophisticated version, with additional processors and sensors for a more powerful performance (3 processors + 5 Super Sensory Systems).
Go1 Edu is the premium version, rich in development possibilities. It's aimed at higher education and professionals, and can be used in service robotics and autonomous surveillance.
Aliengo, your robot-dog explorer
Aliengo is ideal for use in professional environments and at industrial sites as well as for research and teaching. It's an exploration robot that offers lots of advantages. It can:
map your environment in 2D and 3D
run at a speed of 6 km/h
move easily over all types of terrain: obstacles, up and down stairs, etc.
carry out assignments lasting between 2 and 4.5 hours
Its main advantages are its three-dimensional view, its real-time mapping feature and its dynamic vision of obstacles. Aliengo comes in two versions: a lidar-free version and a version equipped with the RoboSense 3D lidar.
B1: the agile, high-performance robot dog
Designed for research and development, B1 is the most advanced of Unitree Robotics' robot dogs. It stands out for its ability to carry heavy loads of more than 40 kg, in addition to being:
waterproof: it can operate under water thanks to its IP68 protection rating (optional)
fast: it can reach up to 1.8 metres per second
mobile: it can move over rough terrain and climb stairs
flexible: it has a motor torque of 210 N.m at the knees
autonomous: its battery allows 2 to 4 hours of work
In terms of equipment, B1 has 3 NVIDIA Jetson Xavier NX supercomputers, 2 terrain sensors and force sensors in its feet.
Z1: the robot arm for robot dogs
Regarding accessories, Unitree Robotics also performs very well, with for example a robot arm compatible with both the Aliengo and B1 robots. The arm opens the door to even more tasks and can serve various purposes, for example to pick up objects, open and close doors, etc.
Boston Dynamics vs. Unitree Robotics: the differences
Which is the right robot dog for your project? Génération Robots has compiled a complete comparison, shown below, to help you choose.
| | | | | |
| --- | --- | --- | --- | --- |
| | SPOT | B1 | Aliengo Basic | Go1 Edu Basic |
| Processors | As an option: i5 Intel® 8th Gen (Whiskey Lake-U) Core™ | 3 NVIDIA Jetson Xavier boards | NVIDIA TX2 NX | 3 NVIDIA Jetson Nano boards |
| Max speed | 1.6 m/s (5.7 km/h) | 1.8 m/s (6.5 km/h) | 1.6 m/s (6 km/h) | 4.7 m/s (17 km/h) |
| Max. payload | 14 kg | 60 kg (stationary) and 40 kg (moving) | 10 kg | 10 kg |
| Cameras | 5 pairs of depth cameras | 5 pairs of depth cameras | 2 depth cameras + 1 visual odometry camera | 5 pairs of fish-eye depth cameras |
| Maximum slope | +/- 30° | +/- 35° | +/- 25° | +/- 25° |
| Weight | 32 kg | 50 kg | 21 kg | 12 kg |
| Dimensions | 1100 x 500 x 1910 mm | 1108 × 461 × 671 mm | 650 x 310 x 600 mm | 588 x 290 x 220 mm |
| Max. step height: | 30 cm | 20 cm | 18 cm | 10 cm |
| Battery life | 1-2 h | 2-4 h | 2-5 h | 1-2 h |
Download the Unitree Robotics brochure