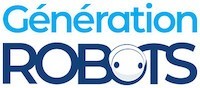 My Cart
0
item(s)
-
€0.00
There are no more items in your cart
Spot Enterprise Package
Spot Enterprise is the "corporate" version of the quadruped robot created by Boston Dynamics. It's designed not only for research and teaching but also for developing industrial and service robotics applications, and will quickly become your faithful corporate companion, always ready to work!

Spot Enterprise, the "pro" equivalent of Spot Explorer
Just like Spot Explorer, the Spot Enterprise mobile robot is equally at home undertaking indoor and outdoor missions. It can avoid obstacles, and move up and down 30° slopes and 30 cm steps. You can use its load interface, located on its "spine", to carry up to 14 kg of equipment by Spot "Express" at a speed of 1.6 m/s, i.e. nearly 6 km/h.
Spot includes a "user-friendly" app you can use to quickly start programming, or to simply let Spot begin exploring its environment. And there's a touch screen interface (Spot tablet) for controlling your noble animal.
Why is Boston Dynamics' Spot Enterprise different?
This business class version of Spot includes two batteries instead of one, for greater robot autonomy. It also features dual band 802.11ac WiFi connectivity in addition to Gigabit Ethernet, which is the fastest dual band WiFi standard on the market.
We offer Spot Enterprise in 2 versions: with or without its self-charging dock. This Spot Dock is particularly useful for rapidly communicating data to Spot through its integrated intermediate Internet server.

Technical specifications of the Spot Enterprise robot
Dimensions:

Spot robot dimensions: 1100 x 500 x 191 mm
Default walking height: 610 mm
Maximum walking height: 700 mm
Minimum walking height: 520 mm
Weight: 32.7 kg

Battery+:

Capacity: 605 Wh
Average runtime: 90 min.
Standby time: 180 min.
Recharge time: 120 min.
Weight: 5.2 kg

Battery charger:

Input voltage: 100-240 VAC, 50/60 Hz, 5.5A max.
Output: 35-58.6 VDC, 7.2A max
Operating temperature: 0 to 40 °C

Connectivity:

WiFi dual band 802.11ac support
Gigabit Ethernet

Environment:

IP54 protection
Operating temperature: -20 to 45 °C

Terrain sensing:

Horizontal field of view: 360°
Range: 4 m
Lighting: >2 Lux
Collision avoidance: maintains set distance from stationary obstacles

Locomotion:

Speed: 1.6 m/s
Maximum slope: +/- 30°
Maximum step height: 300 mm

Payloads:

Max. weight: 14 kg
Mounting area: 850 x 240 x 270 mm
Mounting interface: M5 T-slot rails
Connector: DB25 (2 ports)
Power supply: unregulated DC 35-58.8V, 150W per port
Integration: application software and hardware interface control documentation included

Robot case:

927 x 546 x 464 mm
Net weight: 47.6 kg

Case for battery and charger:

Dimensions: 559 x 432 x 267 mm
Weight (without batteries): 9.7 kg

Controller:

Dimensions: 143.6 x 274 x 53 mm
Weight: 580 g
Touch screen size: 7" (diagonal)
Resolution: 1920 x 1200
Self-charging dock (optional)
Dimensions: 1140 x 414 x 403 mm
Weight: 22 kg
Input: 100-240 VAC, 50/60 Hz, 8A
Output: 58V @ 12A
Time to 80% charge: 50 min (@ 25C) / 2.5 h (@35C)
Time to 100% charge: 2 h (@ 25C) / 3.5 h (@ 35C)
Operating temperature: 0 to 35 °C
Ambient light required
Gigabit Ethernet passthrough to robot
Customers who viewed this item also viewed