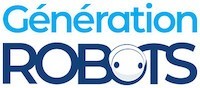 My Cart
0
item(s)
-
€0.00
There are no more items in your cart
Reception and presentation robot
Reception and presentation robots are designed to interact with humans in a friendly and natural way. They can be used in various contexts such as museums, exhibitions, events, hotels, and shopping centers, among others, providing a significantly enhanced customer experience.
Some of the most well-known humanoid robots in this field include Cruzr, Nao, Pepper, and Reachy. Each of these robots has its own unique characteristics and features.
Cruzr, the versatile humanoid robot for reception and presentation.
Cruzr, developed by UBTECH Robotics, is a humanoid robot that measures 1.2 meters in height and is equipped with motion, sound, and vision sensors. It can interact with humans thanks to its ability to speak multiple languages and recognize emotions. Cruzr can be used in hotels to assist customers with simple requests or in museums to provide information about exhibitions.
Nao, an ideal companion for children and teachers.
Nao, developed by SoftBank Robotics, is a small humanoid robot that stands 58 centimeters tall. It is equipped with several sensors and cameras that allow it to see and recognize faces. Nao can speak multiple languages and has a friendly and cheerful personality that makes it easy to interact with. It is often used in schools to help children learn and in exhibitions to guide visitors.
Pepper, the interactive humanoid robot for exceptional customer experience.
Pepper, also developed by SoftBank Robotics, is another popular humanoid robot that stands 1.20 meters tall. It is equipped with motion, sound, and vision sensors, as well as a tablet on its chest to interact with humans. Pepper is capable of detecting emotions and adapting its behavior accordingly, making it perfect for social interactions. It is often used in shopping centers to provide information to customers and to help people find their way.
Reachy, the humanoid robot with agile arms.
Reachy, developed by Pollen Robotics, is a medium-sized humanoid robot equipped with two arms and six motors to simulate human movements. It is also equipped with cameras and microphones to see and hear humans, as well as a screen to display information. Reachy can be used in museums to interact with visitors or in businesses to present products or services.