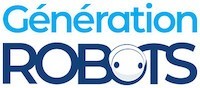 My Cart
0
item(s)
-
€0.00
There are no more items in your cart
Outdoor mobile robots are autonomous machines designed to operate outside, often in difficult or inaccessible environments for humans. These robots are used in various applications, ranging from surveillance and security to research and rescue, as well as agriculture and mapping.
AgileX Robotics Outdoor Mobile Robots
Among these outdoor mobile robots are the AgileX Robotics mobile robots. A leading brand in autonomous driving, the company has developed a complete range of UGV robots: Hunter, Scout, Bunker, Ranger, etc. Fast and agile, they can navigate on all types of terrain and be used for surveillance, disinfection, exploration, transportation, inspection, etc. Compatible with ROS, these robots are cost-effective and easy to operate.
Quadruped robots
Quadruped robots, such as Spot and Unitree, are also increasingly used outdoors. These robots, which resemble robotic dogs, are capable of moving on rough terrain and overcoming obstacles thanks to their articulated legs and ability to adapt to changing conditions. Spot, developed by the American company Boston Dynamics, is often used in surveillance and security applications, while Unitree, developed by the Chinese company Unitree Robotics, is used in research and rescue applications.
Clearpath Robotics outdoor mobile robots
Clearpath robots, particularly the Husky, Jackal, and Warthog models, are also used for outdoor applications. These robots are equipped with advanced sensors, precise motion controllers, and robust communication systems, enabling them to operate in challenging environments and provide high-quality data. The Husky is often used for mapping and surveillance, while the Jackal is used for research and rescue, and the Warthog is used in military and defense applications.
Mobile robot RR100 by Génération Robots
Finally, the RR100 mobile robot is an outdoor mobile platform designed by engineers at Generation Robots. Dedicated to research and higher education, it features powerful sensors and can be used in various sectors, including agriculture, aerospace, nuclear, security, etc.