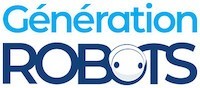 My Cart
0
item(s)
-
€0.00
There are no more items in your cart
Mobile robotics can be a real game changer in many projects. Mobile robots are powerful tools, which autonomy can take over from humans strenuous or dangerous tasks.
What is an autonomous mobile robot?
An autonomous mobile robot is a robot that can move around in an open or closed space. It does not remain stationary in one position. The autonomous mobile robot can map its environment and navigate on its own, without being controlled by an operator.
Autonomous mobile robots do not need any external relays to operate (such as beacons). Instead, they use SLAM (Simultaneous Localization And Mapping) technology, which enables them to build a map of their environment in real time, and do some self-localization. If needed, autonomous mobile robots can also be remotely operated.
Usually, an autonomous mobile robot is made up of:
A chassis (with motors and controller)
An embedded computer
A battery
Sensors (at least a LiDAR)
Actuators
The sensors and actuators will change depending on the tasks the robot has to perform.
Types of sensors:
Thermal sensor
Panoramic camera
Gas sensor
Motion sensor
Microphone
Etc
Type of actuators:
Robotic arm
Screen
Speakers
Drone
Etc
Mobile robots: missions and applications
In which situations can mobile robotics be a real advantage? We won't list the many tasks a robot can take over from humans, there are too many. We will list the one we are familiar with at Génération Robots.
Missions where a robot can be essential, or mandatory:
Space exploration (rovers, sample collection, etc)
Heavy equipment transport (construction sites, rescue missions, scientific missions, etc.)
Transport of mail, medication, light equipment, within a single building, a complex or a district
Surveillance and preventive maintenance of sensitive sites (SEVESO sites, airports, oil & gas)
Etc
How to choose the right mobile robot for your project?
The environment and the terrain are both major considerations, as they cannot be easily changed.
Depending on the environment and the terrain on which the robot will drive, as well as its missions, the locomotion will be different:
You will also need to consider the following features:
The payload (does the robot need to carry heavy equipment?)
Autonomy (an important factor in surveillance and security missions)
Agility (speed and turning radius)
The budget allocated to the project
Other factors, such as the possibility to quickly add extra addons, can also be important. Agilex mobile robots are equipped with rails that allow for quick customization.
Finally, ROS/ROS 2 compatibility is often a major factor in the choice of a mobile base, especially for research and R&D centers. All our mobile robots are ROS compatible.