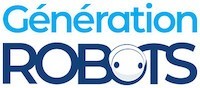 My Cart
0
item(s)
-
€0.00
There are no more items in your cart
Robotic arms, also known as manipulators, consist of several articulated axes that allow them to move in all directions. They are usually programmed to perform specific tasks using specialised software, and can be controlled by human operators using a user interface. They can be used in a wide range of fields and have increased accuracy, leading to higher productivity and quality, lower costs and improved safety for workers.
Collaborative arms (cobots): robots designed to work with humans
Collaborative arms, also known as "cobots", are robots designed to work collaboratively with humans in a safe working environment. They are equipped with advanced sensors and technologies, such as force sensors, proximity sensors and cameras, which enable them to detect human presence and interact with humans safely and efficiently.
Génération Robots is an official distributor of Doosan Robotics and FRANKA EMIKA arms, two of the most advanced brands in the fields of industry and research. Most of our collaborative robots are ROS compatible.
All our robotic arms have the advantage of being able to be adapted to all our mobile robots.
Doosan Robotics: robotic arms for industrial automation
Doosan Robotics manufactures collaborative arms capable of working alongside human workers in a variety of industries, including automotive, electronics, logistics and many others.
The brand offers a range of 10 collaborative robots with different technical characteristics:
SERIE-A: the most competitive range on the market with payload capacities ranging from 6 kg to 15 kg.
SERIE-M: small cobots with a low payload (3 to 5 kg), designed to be easily integrated into small work spaces.
SERIE-H: large carriers with payload capacities ranging from 6 kg to 20 kg, used for palletising and handling.
Franka Research 3: a collaborative robot for research and development
The FR3 robotic arm from FRANKA EMIKA has 7 degrees of freedom, which gives it a very high compliance. Designed for research and R&D centres, it is easy to use: it can be programmed and interfaced via external sensors (packages and libraries for ROS, ROS2, MoveIt!, Matlab).
Baxter: a robot equipped with 2 manipulator arms
The Baxter robot from Rethink Robotics is unique in that it is equipped with two manipulator arms, each with seven axes of movement, offering great flexibility of movement. Equipped with an integrated touch screen, users can program the robot using several languages (Python, ROS etc) and visualise its actions.
Small robotic arms for education, research and industry
The small collaborative arms are light and compact robots ideal for small work spaces and precision tasks (handling, assembly and pick-and-place). Smaller than industrial robotic arms, they can be easily programmed using an intuitive user interface.
Nyrio 6-axis arm: a collaborative robot for education and research
The NED 2 robotic arm is a miniature version of the robotic arms used on large production lines. This 6 axis collaborative robot made in France is open-source and programmable with Blockly, Python, C++, Matlab and via a PLC. It is intended for teachers, researchers and the world of industry 4.0.
Interbotix: open-source, low-cost robotic arms
Trossen Robotics' robotic arms are equipped with Dynamixel servo motors that allow for high precision movement. Designed for education and research, these robotic arms are available in several models: 4,5 or 6 degrees of freedom with payloads ranging from 50 to 750 grams. ROS and ROS2 compatible, all the arms are open-source and allow for the learning of artificial intelligence and automation.